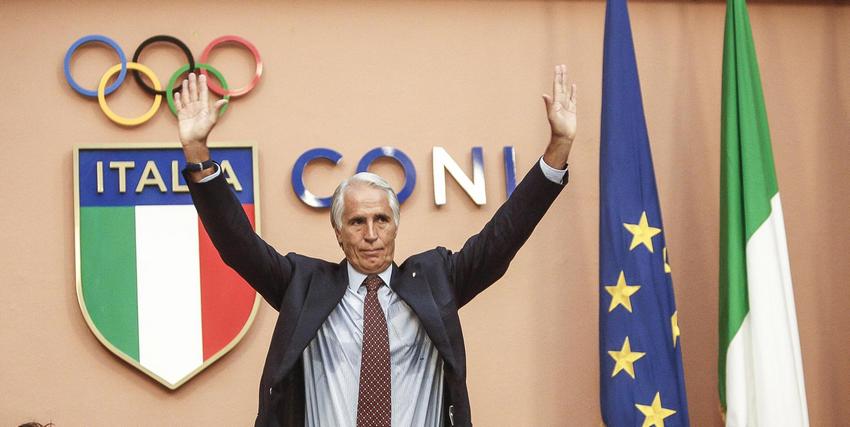 Giovanni Malagò has been re-elected as President of the Italian National Olympic Committee (CONI) for the 2017-2020 four-year period. In office since 19 February 2013, Malagò was re-elected by a large majority of the members of the National Council which convened this morning in the CONI Hall of Honour, beating 67-2 his opponent, Sergio Grifoni, former President of the Italian Orienteering Federation. Malagò, who is 58 years of age, is now in his second term of office as President of the Italian National Olympic Committee.
During the course of the morning, the round of voting ended with the election of the Executive Board, which appointed Franco Chimenti (Deputy) and Alessandra Sensini (Olympic sailing champion at Sydney 2000) as Vice Presidents. Confirmed as Secretary General was Roberto Fabbricini, and as Vice-Secretary, Carlo Mornati, rowing silver medallist at Sydney 2000.
The other members of the Executive Board are: Francesco Ricci Bitti (Asoif President), Angelo Binaghi (Tennis), Flavio Roda (Alpine Skiing), Alfio Giomi (Athletics), Sabatino Aracu (Rollersport), Carlo Magri (Volleyball), Roberto Cammarelle (Olympic boxing champion at Beijing 2008), Valentina Turisini (shooting silver medallist at Athens 2004 and Shooting National Team Head Coach), Sergio D'Antoni and Guglielmo Talento (Territorial Representatives), Giovanni Gallo (Sports Promotion Bodies).
Taking part in the voting were the three Italian members of the IOC: Franco Carraro (former president of the Assembly), Mario Pescante and Ivo Ferriani. Also present were the two honorary members of the IOC: Ottavio Cinquanta and Manuela Di Centa.
Giovanni Malagò's first words after his election were. "I am proud of the result and of the confidence which the members of the Committee continue to place in me, ready to achieve new goals in the interest of the growth of Italian sport. I shall undertake to improve and consolidate our top-level achievements and further increase the number of youngsters who practise sports in our country. Courage and new ideas are needed to concretize a four-year period able to meet the standards set by the prestige and history of CONI".