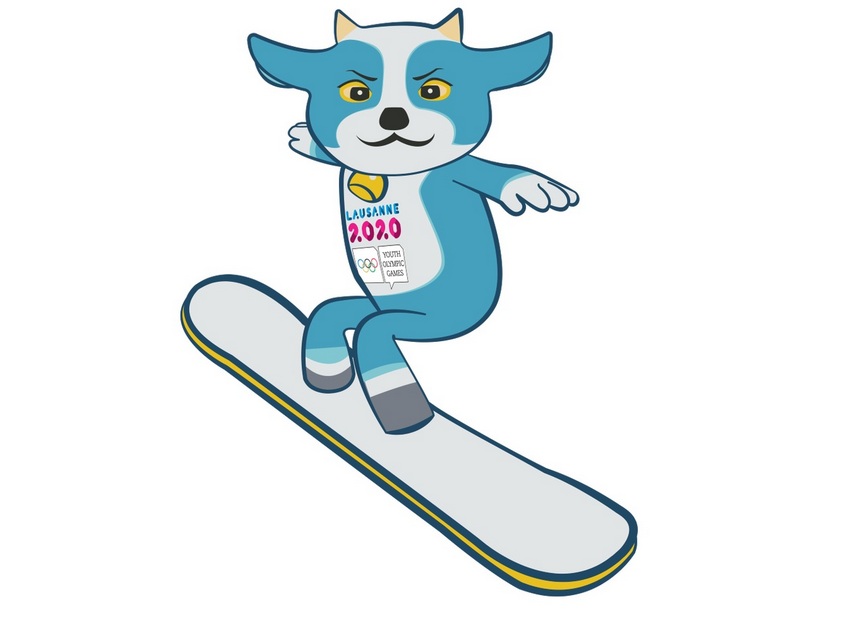 In just one year, the 3rd Winter Youth Olympic Games will kick off in Lausanne, Switzerland. to celebrate the milestone, the Lausanne 2020 Youth Olympic Organising Committee (yogoc) unveiled its mascot, "Yodli", designed by students from a local art school.
How Yodli came to life is a perfect example of how Lausanne 2020 will truly be Games by young people for young people: 140 students from Eracom, a local art and communication school, contributed to the design of the mascot. The various drafts were shown to school children from Lausanne and surrounding areas, to collect feedback and adapt the mascot, and the final choice was then given to 500 young Swiss athletes aged 12 to 18, who voted on the final design.
Yodli is a hybrid animal, composed of several emblematically Swiss animals that live in the Swiss mountains: a cow, a goat and of course a St Bernard dog. Their different characteristics and relationships with the environment are embodied in Yodli, who signifies the diversity of the participants of the Winter Youth Olympic Games Lausanne 2020.
In addition to the unveiling of the mascot, the Lausanne 2020 YOGOC will hold a short ceremony in the Flon neighborhood, in the centre of Lausanne, which will serve as the Medals Plaza during Games time. Emotions will certainly be high when the OMEGA countdown clock shows exactly 365 days to go.
In just one year, Yodli will be joined in Switzerland by 1,800 athletes aged 15 to 18 who will compete in eight sports. They will compete across the whole of Switzerland, and neighbouring France, enabling many regions to be part of the Olympic spirit.
IOC President Thomas Bach confirmed that this will be the first gender equal Winter Youth Olympic Games, following on from the successful summer edition in Buenos Aires last year.
President Bach said: "Gender equity is one of the pillars of Olympic Agenda 2020 and we are very happy that within three years we have managed to have full gender equity for the Youth Olympic Games in Buenos Aires and now for the first time for a winter event with Lausanne 2020 and we will also have gender equity in Tokyo 2020 so this is important and we are happy and proud that we've achieved this in such a short period of time."
Not only will equal numbers of men and women be competing for medals; some exciting new disciplines, such as Ski mountaineering, have also been added to the programme to reflect the increased female participation.For the first time, a Winter Games edition will include mixed-nationality 3×3 ice hockey (with each team made up of three boys and three girls), a women's doubles competition in luge, and a women's Nordic combined event.