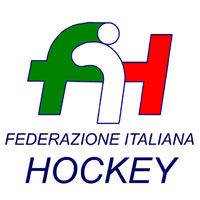 FIH
Italian Hockey Federation
President:Sergio Mignardi
Secretary:Cinzia Profeta
Indirizzo:Viale Tiziano, 74, 00196 Roma RM, Italia
Phone:06 83751132
History of FIH
Costitution
Having joined the Italian Roller Skating Federation in1936, this discipline reached its technical-organisational autonomy within Federpattinaggio following the Spoleto Assembly in February 1957 with the constitution of a special National Commission for Field Hockey (which was active up to 1960). The Commission was presided over by Giovanni Battista Brinchi Giusti.
In the Fifties, the arrival of foreign technicians, following an initiative by Mario Zovato, favoured a growth at a technical level which brought the national team to take part in the Olympic Games in 1952 and 1960. The body changed name from 1967 to 1970 – always within the Hockey and Skating Federation – to the Field Hockey Commission and from 29 Jabuary 1970 to 1973 into Italian Field Hockey Commission. Recognised by CONI as an "adhering" member on 29 September 1973 as Federazione Italiana Hockey su Prato (Italian Field Hockey Federation), becoming effective as of 18 January 1978.

Denomination
Following recognition by CONI: from 1973 Federazione Italiana Hockey su Prato (FIHSP or Italian Field Hockey Federation) and from 18 November 1984 Federazione Italiana Hockey (FIH or Italian Hockey Federation).
Federal Office
Rome from the beginning.
First National Championships
1937 (men); 1942 (women).
First time at the Olympic Games
1952 Helsinki.
Presidents
NATIONAL FIELD HOCKEY COMMISSION
1957 -1960 Giovanni Battista Brinchi Giusti
FIELD HOCKEY COMMISSION
1967 -1970 Antonio Triglia
ITALIAN FIELD HOCKEY COMMISSION
1971 - 1973 Antonio Triglia
ITALIAN FIELD HOCKEY FEDERATION
1973 - 1985 Antonio Triglia
ITALIAN HOCKEY FEDERATION
1973 - 1985 Antonio Triglia

1985 - 2001 Sergio Melai

2001- 2014 Luca Di Mauro
2014 - Ugo Claudio Matteoli (commissioner)
2015-2020 Sergio Mignardi
2020-2021 Carlo Mornati (commissioner)
2021- Sergio Mignardi
Secretaries
1957 - 1960 Sergio Baroni

1967 - 1971 Luigi Corbò

1971 - 1978 Enzo Alfier

1978 - 1979 Roberto Fabbricini (ad interim)

1979 - 1983 Giampiero Paolini

1983 - 1985 Enzo Alfier

1985 - 1991 Alessandro Aramu

1991 - 1999 Cipriano Zino

1999 - 2001 Carla Varese

2001 - 2002 Carmelo Cernigliaro
2002 - 2004 Angelo De Ambroggi
2004 Riccardo Giorgini (ad interim)
2004 Cristina Vicinanza (ad interim)

2004 - 2008 Vincenzo Ciampà

2008 - 2013 Fabio Pagliara
2013-2015 - Cristina Vicinanza
2015 - 2016 Cinzia Profeta (ad interim)
2016 - 2019 Francesca Vici
2019 - Cinzia Profeta (ad interim)
National Sports Federations
National Sports Federations