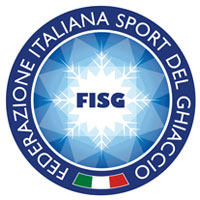 FISG
Italian Ice Sports Federation
President:Andrea Gios
Secretary:Ippolito Sanfratello
History of FISG
Costitution
The first organization coordinating ice sports in Italy was the Italian Skating Federation (FIP), founded in Milan on 6 January 1914. After the inauguration of the first indoor facility in Italy (which took place in Milan on 28 December 1923), the Italian Ice Hockey Federation (FIHG) was established in 1924 to regulate the discipline of hockey, which had landed in Italy in 1911 with the Bobsled Club of Italy being founded in 1925. The three groups joined in September 1926, founding the Italian Ice Sports Federation (FISG) and Count Alberto Bonacossa was elected as president. The FISG was working independently until 1933, when its disciplines, with the transfer of the Federations to Rome, were merged into the Italian Winter Sports Federation. At the end of the war, in 1946, the hockey and skating organisation emerged from the FISI to constitute two different organisations: the Italian Ice Hockey Federation and the Italian Ice Skating Federation. On 6 September 1952, in Verona, both federations merged definitively with the creation of the Italian Ice Sports Federation.
Denomination
From 1926 to 1933, Federazione Italiana Sport del Ghiaccio (FISG or "Italian Ice Sports Federation"), with the name reinstated from 1952.
Federal Office
Under the different names from 1914 to 1933 in Milan; Rome from 1933 to 1943; Milan after the war until 1997, when it moved to Rome.
First National Championships
1914, speed and figure skating; 1925, ice hockey; 1953, dance; 1980 short track.
First appearance at the Olympic Games
1924.
Presidents
ITALIAN ICE SKATING FEDERATION
1914 - 1926 Earl Alberto Bonacossa

ITALIAN ICE HOCKEY FEDERATION
1924 - 1926 Earl Alberto Bonacossa

ITALIAN ICE SPORTS FEDERATION

1926 - 1927 Conte Alberto Bonacossa
1927 - 1933 Luigi Tornielli di Borgolavezzaro

ITALIAN WINTER SPORTS FEDERATION
1934 - 1944 Renato Ricci
1945 Giovanni Nasi

ITALIAN ICE HOCKEY FEDERATION
1946 - 1952 Enrico Calcaterra

ITALIAN ICE SPORTS FEDERATION
1952 - 1960 Remo Vigorelli
1960 - 1972 Enrico Calcaterra
1972 - 1980 Mario Pinferi
1980 - 1992 Luciano Rimoldi
1992 - 1997 Paul Seeber
1997 - Giancarlo Bolognini
Secretaries
1952 - 1980 Aldo Caroli

1980 - 1981 Federico Saviozzi (regent)

1981 - 1982 Raffaele Giacomazza (ad interim)

1982 - 1983 Giorgio Ghersina

1983 - 1984 Nicola Bozzi

1984 - 1991 Federico Saviozzi (regent)

1991 - 1994 Roberto Contento (ad interim)

1994 - 1999 Nando Buonomini

1999 - Giuliano Spingardi

1999 - 2001 Gianni Storti

2001 - 2003 Alberto Berto (regent)

2003 - 2014 Alberto Berto

2014 - Ippolito Sanfratello
National Sports Federations
National Sports Federations