Double silver with Abdelaziz (parallel) and Fiorese (long). Stella, bronze in the 5.000 F.
Published: 26 August 2014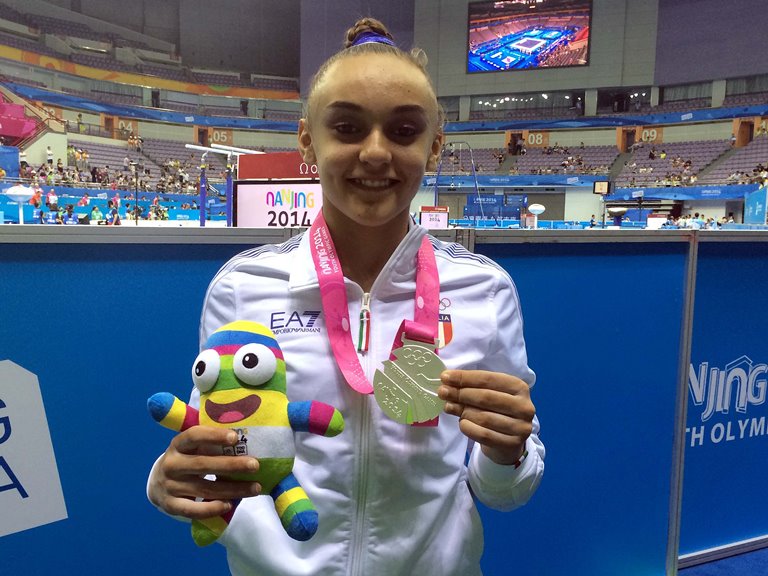 We are only missing the gold. Today came another three medals at the Youth Olympic Games, two silvers with Iosra Abdelaziz (Artistic Gymnastics) on the uneven bars and Beatrice Fiorese (Athletics) in the women's long jump, and one bronze, that of Noemi Stella (Athletics) in the women's 5,000 metres. The gymnast from Segrate, with a score of 13.366, has improved by more than two and a half tenths of the qualifying score (13.100) and by a handful of milliseconds that of the General Competition (13.350), finishing behind the All-around youth Olympic champion, the Russian Seda Tutkhalyan, gold also on the beam with 13.575. Only bronze for the evening's favourite, the Chinese Yan Wang with 13.066. The number of the Coni mission in Nanjing (Iosra has not even reached 15 years old yet), therefore confirms the first YOG placement in the Gymnastics, which, in the men's, had quickly lost Andrea Russo due an injury. The Lombardy gymnast of Egyptian origin, trained by Marta Cerri between the Sport Centre of Bollate and the Academy of Milan, has now two more opportunities tomorrow, to enrich the young prize list, on the balance beam, where she will go up to last but one and in the floor, in which she will be the forerunner. In both the specialty finals she enters with the fourth personal best (TR. 13.250 - CL. 12.800). Like the little Abdelaziz in her discipline, even Noemi Stella has the satisfaction of unlocking the medal table of Azzurra Athletics. In a muggy and humid climate, the walker from Grottaglie stopped the clock at 23:38:10, preceded by the elusive Chinese Ma Zhenxia (22:22:08) and by the Mexican Valeria Ortuno Martinez (23:19:27). For the 17 year old of Don Milani Athletics, an important confirmation after the Italian student titles in 2014 on the 3,000 mt. indoor in Ancona and on the 10,000 mt. by road to Locorotondo. The other Italian medal at the Nanjing Olympic Sports Center Stadium comes shortly after, thanks to Beatrice Fiorese, in the long jump. The promise of Camposampiero fails to repeat the 6.26 of qualifications so today the gold is won by the Ukrainian Yelyzaveta Baby. The 6.21 of the long jumper from Vicentina Athletics is enough to keep her behind the American Rhesa Foster, bronze with 6.17 and to celebrate with the tricolor flag on the shoulders of the runner-up.