Vincenzo Lizzi (Boxing) Welterweight YOG bronze for Technical KO in the second round!
Published: 26 August 2014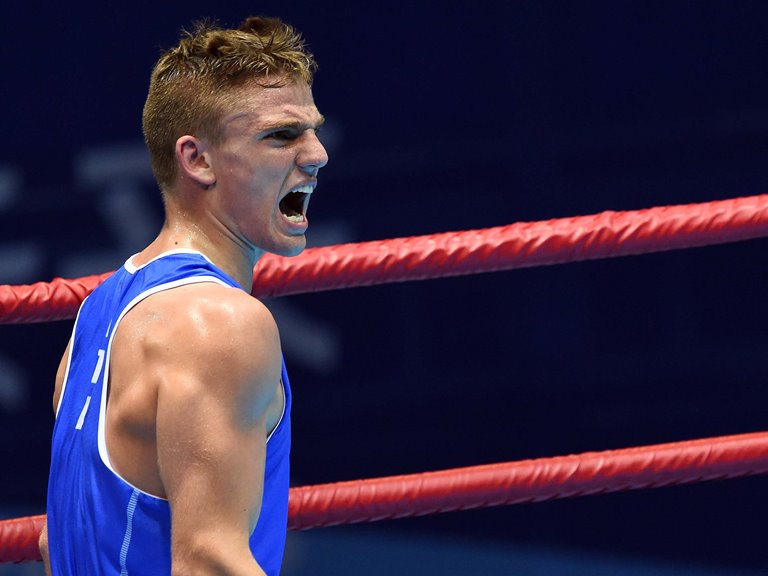 The Boxer from Cetraro (CS) Vincenzo Lizzi won the Bronze in YOG Welter 69 Kg. Beating the Belarusian Adzinayeu due to a technical knockout in the second round. After winning by split decision the first encounter with the Georgian Giorgi Kharabadze and having lost against the Dominican Juan Solano by 3 to 0 in the semi-finals, the 18 year old from the Forestale, previously Morello Boxe, prevailed in the final for third and fourth place, the challenge was not planned in the main Olympic programme: "I wanted to win at all costs. Several years ago I would never have imagined receiving an Olympic medal. I thank my uncle, Ercole Morello, who helped train me in the boxing club and I dedicate the bronze to my family and in particular to my father, who has come with me to Nanjing and has done a lot of cheering in the stands". "Vincenzo is a boxing fighter that put a lot of pressure on the opponent and always aims to hit in the encounter - tells us Emanuele Renzini, Training Manager of the Nazionale Donne (National Women)- He has the ability, and he demonstrated that today, to conclude the match before the cut-off limit. Now, after a few days rest, he will begin preparing for the European Youth Championships in Croatia in October. "On the side of the women, in the morning, the Sicilian Monica Floridia finished in 5th place beating the Ukrainian Bondarenko by 2 to 1, while tomorrow it's up to Irma Testa, in the final with the Chinese Yuan Chang. The sixteen year old from Torre Annunziata, the promise of Vesuvian Boxing, already sure of the medal in the fly weight 51 Kg. She will then fight against the lady of the house only to determine the colour. It seems certain gold due to renunciation of the opponent, on the other hand, for Vincenzo Arecchia. Meanwhile, in fact, the Light Welterweight of Marcianise beat the Turkish Adem Furkan Avci in the semi-finals, in the other encounter, the Russian Bibert Tumenov was disqualified for the KO beyond the gong inflicted on the Japanese Toshihiro Suzuki, which should, by regulation, be declared unfit to fight. The certainty after tomorrow of the weight, even if it is Arecchia himself showing optimism: "Whether I get up in the ring or not, the gold is mine." Meanwhile, the Italia Team rises to 22 medals overall at the Youth Olympic Games, which will be supplemented by the two from boxing; to reach 24, one podium place less than Singapore, waiting for the last Azzurri fireworks before those of the Closing Ceremony of the evening of the 28th.