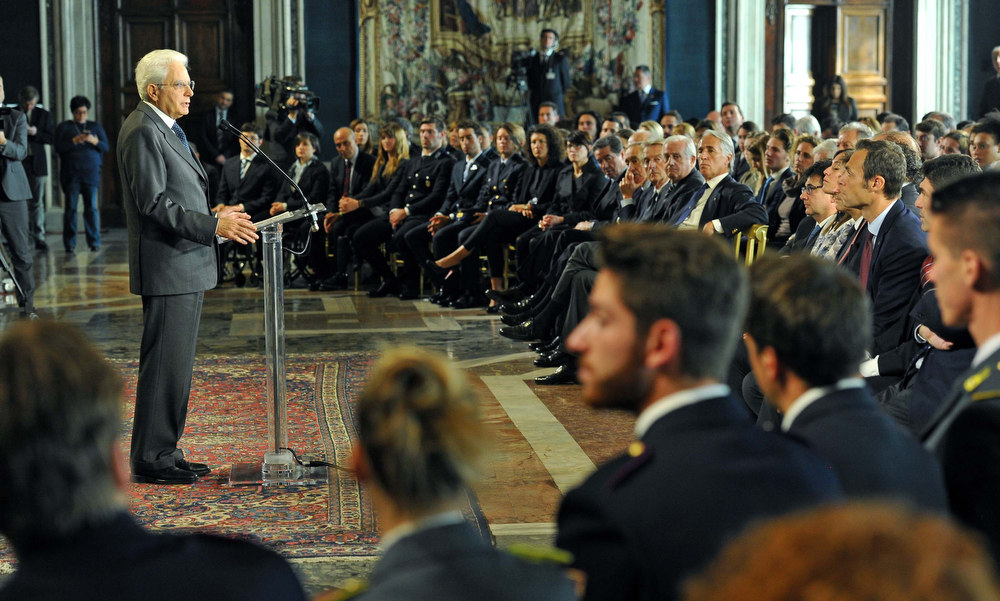 The President of the Republic, Sergio Mattarella, received this morning at the Quirinale a big delegation of Olympic and Paralympic athletes, and, for the first time, of world champions of non-Olympic disciplines. The ceremony, called to celebrate the Italian successes obtained in 2015, was attended by the Secretary General of CONI, Roberto Fabbricini, the Deputy Secretary General, Carlo Mornati, members of IOC Franco Carraro, Mario Pescante and Ottavio Cinquanta, by honorary member Manuela Di Centa, and many Federal Presidents and sport organisations recognised by CONI.
The President of CONI, Giovanni Malagò, opened the day with his introductory speech. "We are proud of this historic meeting for what it means to our world, composed of 30 million practising individuals and 11 million registered members. I want to thank President Mattarella for the sensitivity and generosity he has demonstrated, allowing us to gather Olympic and Paralympic disciplines together, and to extend the invitation to athletes of non-Olympic disciplines. I am sure that this will be a historic precedent. It is a particularly happy moment for Italian sport: yesterday's ceremony, which saw the awarding of Golden Collars in the presence of Prime Minister Renzi, the launch of the Rome 2024 logo, the allocation to Italy of the Ryder Cup, which is the third event in the world in terms of importance, are all historic events that should be witnessed with pride. I would therefore like to renew my thanks to the President for his closeness to us: any time each of our athletes makes our national hymn resound and our flag go to full mast, without fail he phones me to express his congratulations and friendship, with closeness and also with a level of competence that I must say has surprised me. This, for us, is extraordinarily important".
The President of the Italian Paralympic Committee, Luca Pancalli, emphasised the importance of this moment. "This is an extraordinary day for all our family, to which I belong since I was 17. My "boys" are proud of their azure outfit and have honoured our flag around the world, bringing a message of hope: after the drama of a road accident or of an illness, which would have floored anybody, they achieved extraordinary results, giving us courage, passion and determination, and today they are here as champions. We dream of hosting the Paralympics in Rome in 2024 for the meaning this would carry. Sport goes beyond state borders and overcomes barriers, gives special meaning to life, is a daily victory that must be celebrated with pride and joy".
The event then saw contributions by Flavia Pennetta, winner of the "US Open" tennis tournament, and Alessandro Zanardi, Winner of three golden medals at the cycling paralympics on Nottwill surface. Pennetta spoke of the "emotion and satisfaction of athletes present, for having left their personal mark in competitions of great importance". It makes us proud to hear of the closeness of President Mattarella and obtain so many rewards that bring prestige to our country". Alex Zanardi echoed the gratitude coming from the Paralympic world. "Life teaches us that great conquests are reached with small steps. This ceremony is extraordinary, it makes us proud, and it is also important for who tried without succeeding.
The President of the Republic, Sergio Mattarella, closed the ceremony emphasising the importance of sport as a tool for well-being, capable of expressing key values for our society. "You are the champions, the emblems and symbols of Italian sport. Your successes promote sporting practice and provide a serious contribution to the well-being of the Italian people. I am not talking only of physical well-being, but of a practical and concrete example of good conduct. Paralympic sport, for example, allows who has a disability to adapt it to his life's requirements, even it is not possible for the disability to be eliminated; therefore, Paralympic sport is important for all disabled people and for everyone who finds facing a competition more demanding than other people. Sport means fairness, fair play, following the rules: all qualities that our country is in great need of. For this reason, we must remain firmly against any form of doping. The example given by sport champions seeps deeply into the social fabric. For this reason, I really liked CONI's initiative "Win as grown-ups", conceived to offer children in difficult social and local environments a free and eye-opening sport, education and personal experience, representing an important opportunity to follow a healthy growth and development process. I renew my encouragement to you in advance of the Rio 2016 Games, hoping that they will bring us many medals, also with a view to Rome 2024: the logo is very beautiful, I hope that we will reach the finishing line".