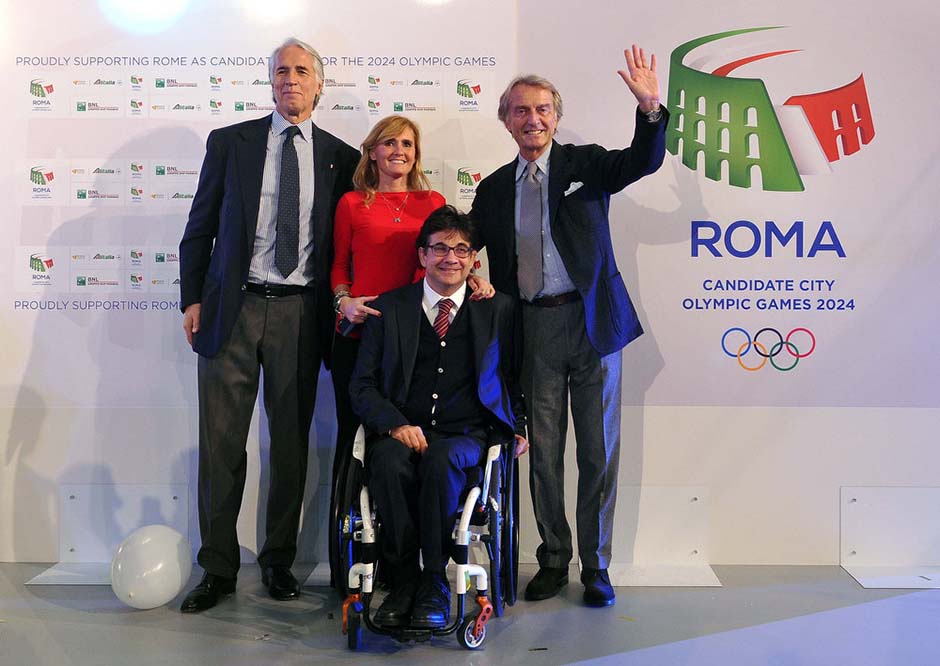 Reviewing session time for Rome 2024, in preparation of the Olympic summit dedicated to Rome's bid for the 2024 Olympic Games between Prime Minister Matteo Renzi and IOC president Thomas Bach, planned in Lausanne on next Thursday. This week was marked by some important preparatory meetings aimed at finalizing the candidature file the IOC will receive on February 17th .
Today took place the second meeting with the Board of Trustees, where the participants had the chance to discuss and share the main guidelines of the project in light of the principles contained in the Olympic Agenda 2020.
The bid Committee, with its President Luca di Montezemolo, the Vice President Luca Pancalli, the General Coordinator Diana Bianchedi, together with the President of the Italian Olympic Committee Giovanni Malagò also welcomed representatives of the main environmental associations. "It has been a very constructive debate which will be followed by a more technical one, confirming our bid process as a shared endeavor one" said the general coordinator Diana Bianchedi. Bid Committee President Luca di Montezemolo further commented: "I was positively impressed by today's inclusive spirit as well as by a careful and constructive approach towards the Olympic project. We have all the same goal: to ensure that the Olympic and Paralympic Games will play a decisive role in renewing Rome from a structural, environmental and technological front".
The Committee has also met with the team of the University of Tor Vergata - Rome coordinated by Professor Beniamino Quintieri whose analysis and study on the sustainability and legacy of the 2024 Games is now in advanced phase: "We are producing a report for the Committee on the evaluation of the real socio-economic benefits of the Games for the city of Rome and Italy. We will evaluate the employment growth, the increase in tourism, foreign investments as well as the improvement of services and infrastructures. We currently have estimated that, thanks to the Games, about 180,000 jobs will be available for young people" explains the professor. "It is still premature to make any definitive claims based on this study. Nevertheless, this analysis shows that the Games would guarantee additional revenues for 1 billion euros, I am then even more convinced that we have a unique opportunity for the renewal of Rome, a world's a heritage that belongs to all Italians".