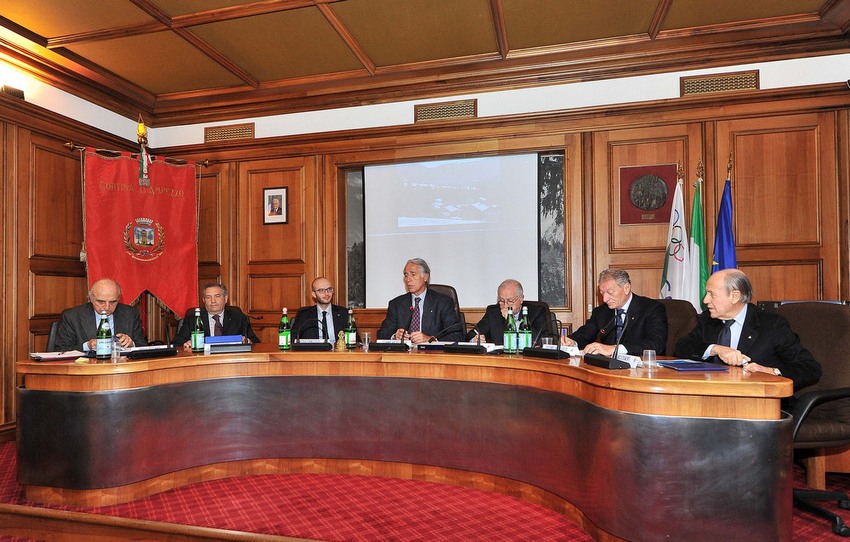 This morning, in the headquarters of the Municipal Council of Cortina, meeting no.1041 of the CONI National Board took place, and it started with the approval of the minutes of the previous meeting of 17 December. In his opening communication, President Malagò explained the reasons for the meeting being held in Cortina, as exactly 60 years ago, on 26 January 1956 at 11:30, the opening ceremony of the Cortina Winter Olympic Games took place, these being the first Olympic Games occurring in Italy.
At the opening of the proceedings, the Mayor of Cortina Andrea Franceschi also intervened. President Malagò then continued by complimenting the female and male athletes that gained world-class results in the last month. Sincere congratulations were expressed for the successful visit paid by the Committee for the promotion of the Rome 2024 Olympics, together with the Prime Minister, Matteo Renzi, to IOC President Thomas Bach in Lausanne.
The Board then took note of the letter from Ottavio Cinquanta, communicating that he will not stand at he next election of the International Ice Sports Federation, and that therefore from June he will no longer be a member of IOC. The Board expressed great affection for and friendship towards Cinquanta, who promised to continue to promote Italian sport initiatives all the same. On 28 January, at 5:30 pm, at CONI's Salone d'Onore, commemorations will take place to mark 50 years since the Bremen Tragedy. The Annual Report summary prepared by Enrico Cataldi, Prosecutor General for Sport, was then examined and praised: over the course of 2015, Cataldi tackled 3,242 files. With reference to the upcoming Youth Winter Olympic Games planned at Lillehammer between 12 and 21 February, the Italian team is now set, led by Anna Riccardi and composed by 37 athletes (20 males and 17 females), of which 21 belonging to FISI and 16 to FISG. The standard-bearer will be Felix Schwarz, luger from Merano, who just turned 18 on 1st January.
The Board also approved the regulation to support female athletes in maternity leave. The Board then took note of the resignation of the Extraordinary Administrator of the Italian Bowling Federation, Francesco Purromuto, for newly arisen international commitments, and decided to entrust the post to Antonello De Tullio, with Alvio La Face as Deputy Administrator. The Board then nominated Luigi Fischetti as member of the First section of the Italian Anti-Doping Tribunal. After having examined a long series of other organisational and administrative issues, and having formulated the necessary resolutions, the Board ended the meeting at 11:40 am.