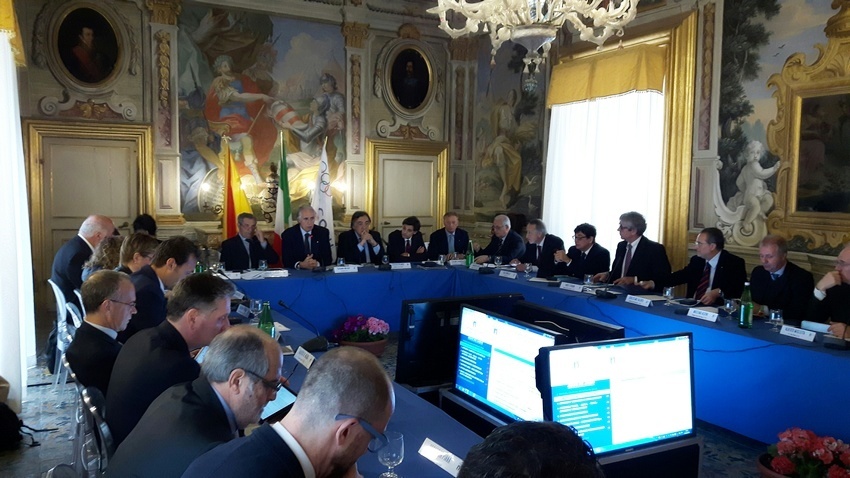 This morning, for the first time in its history in Palermo, meeting no.1044 of the CONI National Board took place, and it started with the approval of the minutes of the previous meeting of 26 February. In his communication, President Malagò congratulated the winter sports athletes that distinguished themselves significantly in this last period, which saw the gaining of four world cups that had never been won before (Federico Pellegrino, Peter Fill, Dorothea Wierer and Michela Moioli). He also congratulated Gianmarco Tamberi for his gold medal at the indoor athletics world championship and the other athletes that obtained the Olympic qualification for Rio 2016, raising the current number of participating athletes to 157 units. At the beginning of the proceedings, there were interventions by the Mayor of Palermo, Leoluca Orlando, who hosted the Board in the prestigious location of Villa Niscemi, and by the Sports Councillor for Sicily, Anthony Barbagallo.
The Board then got an update on the Rome 2024 candidature. The 2016 CONI Trophy was assigned to Sardinia, with the prior verification by the management of the financial assurances received. The Board then discussed the latest events in relation to the participation of Italian basketball teams to international competitions. After a broad discussion, the Board decided to invite "FIP (the Italian Basketball Federation) to verify urgently if the basketball premier league operations are in conflict with the principles of national and international sport legislation and, if so, to adopt all measures necessary (also with respect to the premier league) to reinstate compliance with the principles necessary to guarantee the regular commencement and continuation of high level sport competitions, both national and international. The 2016 service contract between CONI and CONI servizi was then approved.
The next National Council meeting was postponed to 4th May, starting at 11 am, while the Board meeting has been confirmed for 27 April at 10 am with the nomination of the standard-bearer for the Rio 2016 Olympic Games. After having examined a long series of other organisational and administrative issues, and having formulated the necessary resolutions, the Board ended the meeting at 13:05.