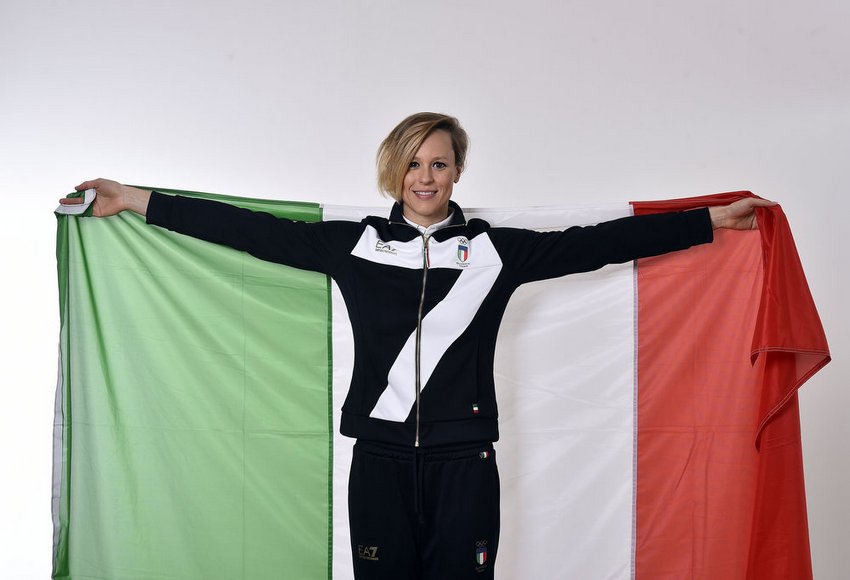 Federica Pellegrini will be the standard bearer for Italy at Rio 2016. The nomination of the swimming champion was formally announced by CONI President, Giovanni Malagò, to the Board members gathered today at Foro Italico. Pellegrini, Olympic gold in the 200m freestyle swimming race at Beijing 2008, has thus become the fifth female standard bearer at the Summer Games - the first was gymnast Miranda Cicognani at Helsinki 1952 - a historical moment also for swimming at large, which is now one of the disciplines honoured by the nomination of one of their athletes as standard bearer.
As the current world and European record holder for the 200 metres race, thanks to the silver won at the Kazan 2015 World championship, she has become the first female swimmer of all times to get onto the world championship podium six times in a row. Indeed, for more than ten years, since her second place in Montreal 2005, she has always been amongst the three queens in this speciality (two golds, three silvers and one bronze), winning also another two world golds in the 400 metres freestyle swimming.
Pellegrini will raise the Italian flag at Maracana the next 5 August, a date written in the stars: on the same date she will indeed be celebrating her 28th birthday, representing Italy in the most important sport event and crowning a perfect career, which she lives - as she has always done - in the name of skill, sacrifice and passion.
Italian standard bearers in the history of the Summer Olympic Games