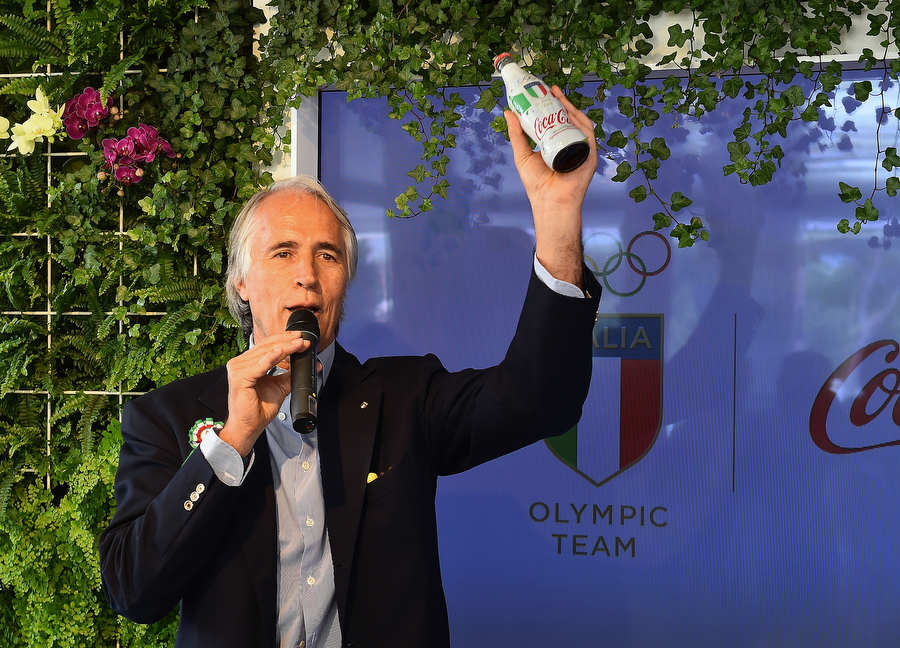 This morning, at the Circolo del Tennis of the Foro Italico of Rome, CONI President Giovanni Malagò and Evguenia Stoitchkova, General Manager of Coca-Cola Italia, presented the partnership that will bind CONI and Coca-Cola for the year 2016, in support of the Italia Team – the Olympic national team representing Italy in Rio 2016.
The presentation was attended also by Secretary-General Roberto Fabbricini, Deputy Secretary and Head of Olympic Preparation, Carlo Mornati, CEO of Coni Servizi, Alberto Miglietta and FIT Chairman Angelo Binaghi, in addition to Nicola Pietrangeli, Lea Pericoli and a delegation of athletes of the Italia Team such as Carlotta Ferlito, Luca Dotto, Carlo Molfetta, Elisa Santoni, Marco De Luca, Mara Santangelo.
An extremely important agreement to activate synergies with a corporation that has always been involved in projects supporting sports and outdoor life, in tune with the values that CONI promotes. Coca-Cola, already a sponsor of the IOC at global level, has decided to become actively involved with CONI, establishing a strong bond with Italy in social, economic and cultural terms, through a business model that is strongly connected to the local reality. It was therefore almost a natural consequence that Coca-Cola would support the Italian National Olympic Committee in a very important year for sports in our country. "Last year we put our stakes on Italy becoming a Partner of Expo Milano 2015 and hosting 400.000 visitors in our Pavilion. This year we want to continue to testify the closeness of the corporation to this Country, where we have been operating for almost 90 years with 5 production plants and more than 2,000 employees, associating our brand with the emblem of Italian sport and supporting Italian athletes representing our Country at the Rio 2016 Olympic Games" said Evguenia Stoitchkova, General Manager of Coca-Cola Italia.
For the occasion, CONI and Coca-Cola have created a coordinated image, characterised by the "Passion on the Move" claim and enriched by graphic elements based on the Italian colours, which will accompany all events and initiatives organized by CONI and Coca-Cola in the course of the year. A 330ml Limited Edition (not for sale) Coca-Cola bottle will celebrate the partnership.