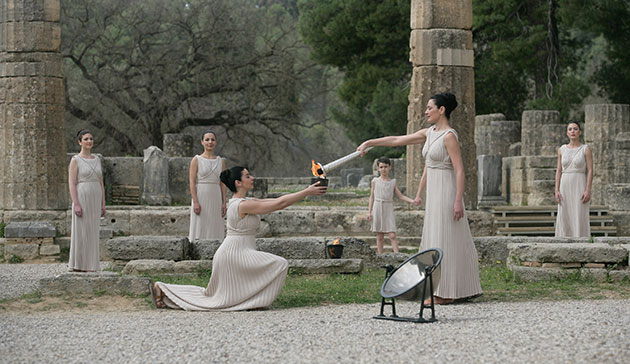 The fire, the myth, the solemnity of a historic moment. Renewed in the name of the legend of the 5 Olympic rings. A little more than 100 days from the start of the XXXI edition of the Summer Games - the Olympic flame was today lit in Olympia, continuing a tradition which began in Ancient Greece. The flame - which symbolises peace, unity and friendship, was lit as planned by the sun's rays, in front of thousands of visitors, scholars and media representatives from around the world (photo olympic.org).

The official ceremony was held in the presence of IOC President, Thomas Bach, the President of Greece, Prokopis Pavlopoulos, and representatives of the Greek Government and a Brazilian delegation led by the President of the Rio 2016 Organising Committee, Carlos Nuzman. The first torchbearer will be Greece's Lefteris Petrounias, world gymnastics champion, who will then pass the torch over to former Brazilian volleyball player Giovane Gavio, a double Olympic champion.

The torch will leave Athens at the end of the month and arrive in Brazil on 3rd May and will pass through more than 329 cities - covering over 20,000 kilometres courtesy of 12,000 torchbearers - before arriving in Rio de Janeiro on 4th August, the eve of the opening ceremony, due to take place at the Maracana Stadium.