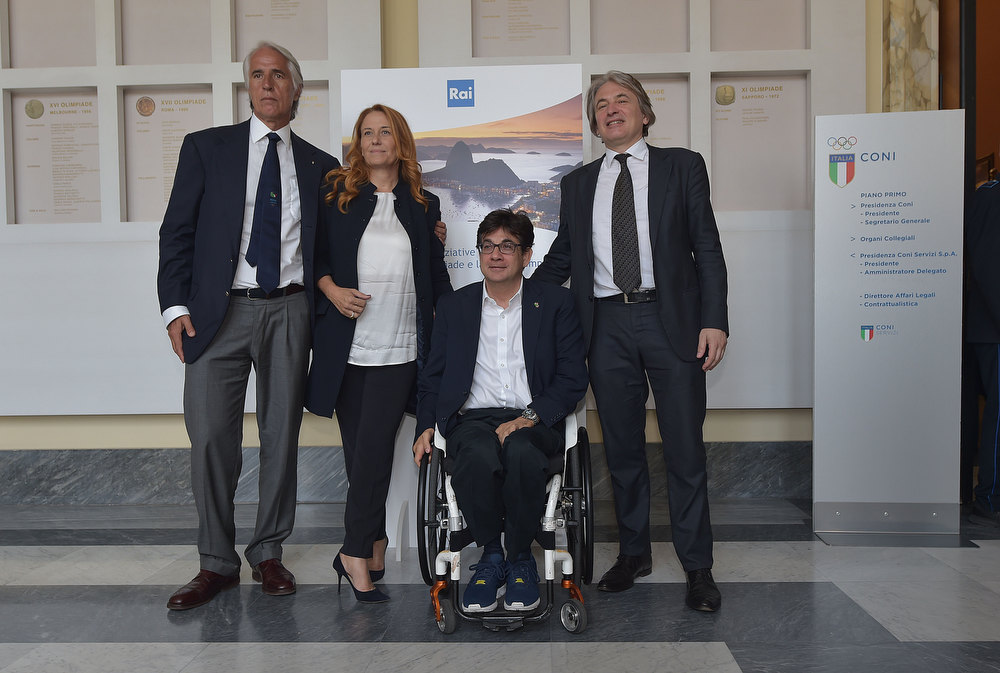 Rai embraces the Olympic Games: CONI's Salone d'Onore today witnessed the presentation of the State television schedule for the 31st edition of the Summer Olympic Games. More than 5,000 hours of coverage on all media forms (TV, radio, web) to show, 24 hours a day, the spectacular event in Rio. The Rai team will be made up of about 200 people including 47 Rai Sport journalists and 16 expert commentators. Over a thousand hours of coverage over three channels: Rai due, which will become the Olympic network, Rai Sport and Rai Sport 2, also in HD. Radio Uno will provide over 180 hours of live broadcasting through 19 locations. It will be possible to choose between 36 channels on the web. Virtual reality will make its first appearance, over 100 hours of coverage allowing you to obtain a 360-degree view of some moments of the games. The Paralympics will also receive considerable attention with 200 hours of dedicated coverage.

CONI president, Giovanni Malagò, expressed his pride. "It is a marriage with the mother. Rai is the mother of Italians and the world of sport. There are TV broadcasters that are doing very, very well, but an event so much part of Italian's DNA would not be the same without Rai's presence. I am aware of the efforts you have made to honour this event. It is going to be fun: Italians will be inspired to stay up late or wake up early to follow us. We begin on the 3rd August with the inauguration of Casa Italia, in the presence of the Prime Minister, Matteo Renzi. Whatever happens, we're going to Rio with more athletes compared to London. This is not to say that it correlates to winning more medals, but it is an important sign, we are one of the world's biggest delegations. And I'm sure the coverage will live up to expectations".

The General Director of Rai, Antonio Campo Dall'Orto, emphasised the concept. "We started working in January to transform Rio into the house of Rai and in order for Rai to be able to get across the concept of universality and the Olympic spirit. The Olympics represent the top and not just to those who love sport. We think that the values of sport are very similar to those we think a public service should be. The concept of universality is related to the spirit of the Games. It manages to combine the importance of competition with that of people: the Olympics and Paralympics bring us closer to people, their stories, thanks to inclusion. I still remember Mennea's achievement: I believe that certain examples inspire behaviour, through a language that embraces everything and everyone. The investment to cover the Games has never been done before". The event was also attended, among others, by the President of Rai, Monica Maggioni.

Luca Pancalli, President of the CIP, praised Rai specifically in relation to the efforts undertaken to provide full, Olympic and Paralympic, coverage of the event. "I have found and seen many team-mates again. We have to thank you once again: your success achieved in London in 2012 was our 29th medal. The coverage, second only to Channel 4, was a source of pride, an opportunity to understand it was still possible to hope. Rai ensures that public service is a source of social pride due to the 200 hours of coverage of the Paralympic Games. It represents cultural growth for the country, not just a statistic. It has triggered a virtuous circle that can make a difference. Thank you for this shared journey and for having given a dream to so many young people with disabilities, who can say, thanks to sport maybe there is more to my life".

Gabriele Romagnoli, Director of Rai Sport. "The universalism of the Games is a thing of great wonder. It rewrites history and geography. There are those who still believe in this: those who organise the Olympics and those who rise to accept the challenge. It is an idea that merits being ignited, like the torch. From sport you learn: there is a limit to be exceeded, in other words becoming part of a team and giving your all for others. I think we're going to do something normal in Rio, because we are a public service. We want you to share an exemplary event, with our team: 200 people including 47 journalists totalling 5000 hours of coverage.
Sandro Fioravanti, Team Leader of Rai Sport in Rio, went into the technical details of the mission, as did Giampaolo Tagliavia of Rai Digital. Rai's mission has already begun.