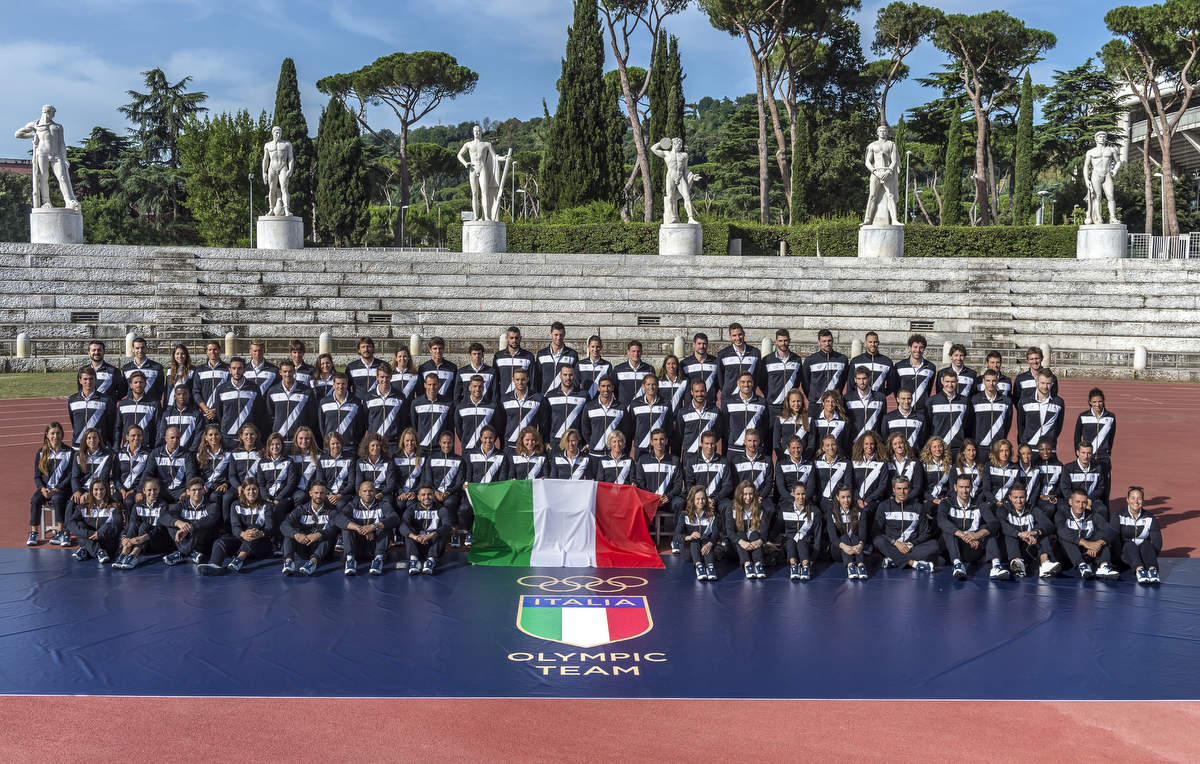 Team Italy heads to Rio with 297 athletes. Today, the last day for signing up for events, saw official approval of the list of Italian athletes set to take part in the 31st edition of the Summer Olympics. The delegation will be made up of 155 men and 142 women: representing the biggest female contingent ever, both in terms of total athletes and percentage: 47.81, which exceeds the 43.78% at London 2012. Lombardy is the region with the largest number of participants (43), ahead of Lazio (36), while Rome is the leading Province (30), ahead of Naples (13). The overall average age of the team is around 27 years (27.27%), and is slightly lower than London 2012 (27.82): the oldest athlete is the evergreen champion of Target Shooting, Giovanni Pellielo (46 years old), who has also competed at the most Games (7), while swimmer Sara Franceschi (17 in February) will be the youngest member of the team. Out of the Military and Civilian State bodies, the Fiamme Gialle are the group with the largest delegation with 40 athletes, ahead of the Fiamme Oro (37). The Circolo Canottieri Aniene (Rowing Club), with 9 members, is the civilian sports club most represented ahead of Pro Recco (7). There will be 29 Olympic medallists from London also taking part in Rio. The Italian athletes are "ready for take-off".
TEAM ITALY RIO 2016
297 athletes (155 men, 142 women)

ATHLETICS (38):Giordano Benedetti, Teodorico Caporaso, Jamel Chatbi, Silvano Chesani, Marco De Luca, Eseosa Desalu, Fabrizio Donato, Juri Floriani, Matteo Galvan, Matteo Giupponi, Stefano La Rosa, Marco Lingua, Davide Manenti, Daniele Meucci, Ruggero Pertile, Chiara Bazzoni, Catherine Bertone, Maria Elena Bonfanti, Marzia Caravelli, Maria Benedicta Chigbolu, Dariya Derkach, Ayomide Folorunso, Eleonora Anna Giorgi, Libania Grenot, Gloria Hooper, Anna Incerti, Veronica Inglese, Margherita Magnani, Sonia Malavisi, Marta Milani, Antonella Palmisano, Yadisleidy Pedroso, Elisa Rigaudo, Desiree Rossit, Yusneysi Santiusti Caballero, Maria Enrica Spacca, Valeria Straneo, Alessia Trost

BADMINTON (1): Jeanine Cicognini

BEACH VOLLEYBALL (6):Adrian Ignacio Carambula Raurich, Daniele Lupo, Paolo Nicolai, Alex Ranghieri, Marta Menegatti, Viktoria Orsi Toth.

CANOE KAYAK (8): Mauro Crenna, Giovanni De Gennaro, Giulio Dressino, Alberto Ricchetti, Nicola Ripamonti, Manfredi Rizza, Carlo Tacchini, Stefanie Horn

ROWING (18): Giovanni Abagnale, Romano Battisti, Vincenzo Maria Capelli (Reserve), Matteo Castaldo, Marco Di Costanzo, Francesco Fossi, Martino Goretti, Livio La Padula, Matteo Lodo, Marcello Miani, Andrea Micheletti, Domenico Montrone, Stefano Oppo, Pietro Willy Ruta, Giorgio Tuccinardi (Reserve), Giuseppe Vicino, Sara Bertolasi, Alessandra Patelli

CYCLING (18):Fabio Aru, Luca Braidot, Damiano Caruso, Alessandro De Marchi, Marco Aurelio Fontana, Vincenzo Nibali, Diego Rosa, Andrea Tiberi, Elia Viviani, Beatrice Bartelloni, Giorgia Bronzini, Elena Cecchini, Simona Frapporti, Tatiana Guderzo, Eva Lechner, Elisa Longo Borghini, Francesca Pattaro, Silvia Valsecchi,

ARTISTIC GYMNASTICS (6): Ludovico Edalli, Erika Fasana, Carlotta Ferlito, Vanessa Ferrari, Elisa Meneghini, Martina Rizzelli.

RHYTHMIC GYMNASTICS (6): Veronica Bertolini, Martina Centofanti, Sofia Lodi, Alessia Maurelli, Marta Pagnini, Camilla Patriarca.

GOLF (4): Nino Bertasio, Matteo Manassero, Giulia Molinaro, Giulia Sergas.

JUDO (6): Fabio Basile, Elios Manzi, Matteo Marconcini, Odette Giuffrida, Edwige Gwend, Valentina Moscatt.

WRESTLING (2): Frank Chamizo, Daigoro Timoncini.

SWIMMING (35): Marco Belotti, Federico Bocchia, Piero Codia, Andrea Mitchell D'Arrigo, Gabriele Detti, Alex Di Giorgio, Luca Dotto, Luca Leonardi, Filippo Magnini, Luca Marin, Marco Orsi, Gregorio Paltrinieri, Luca Pizzini, Matteo Rivolta, Simone Sabbioni, Michele Santucci, Andrea Toniato, Federico Turrini, Ilaria Bianchi, Diletta Carli, Martina Carraro, Arianna Castiglioni, Martina De Memme, Silvia Di Pietro, Erika Ferraioli, Sara Franceschi, Chiara Masini Luccetti, Alice Mizzau, Margherita Panziera, Federica Pellegrini, Aglaia Pezzato, Stefania Pirozzi, Alessia Polieri, Luisa Trombetti, Carlotta Zofkova.

SYNCHRONISED SWIMMING (9): Elisa Bozzo, Beatrice Callegari, Camilla Cattaneo, Linda Cerruti, Francesca Deidda, Costanza Ferro, Manila Flamini, Mariangela Perrupato, Sara Sgarzi.

MARATHON SWIMMING (3): Simone Ruffini, Federico Vanelli, Rachele Bruni.

DIVING (8): Michele Benedetti, Andrea Chiarabini, Giovanni Tocci, Maicol Verzotto, Noemi Batki, Tania Cagnotto, Francesca Dallapè, Maria Marconi

WATER POLO (26): Men: Matteo Aicardi, Michael Alexandre Bodegas, Marco Del Lungo, Francesco Di Fulvio, Pietro Figlioli, Andrea Fondelli, Valentino Gallo, Niccolò Gitto, Alessandro Nora, Christian Presciutti, Nicholas Presciutti, Stefano Tempesti, Alessandro Velotto.
Women: Rosaria Aiello, Roberta Bianconi, Alek Sandra Cotti, Tania Di Mario, Giulia Emmolo, Teresa Frassinetti, Arianna Garibotti, Giulia Gorlero, Francesca Pomeri, Elisa Queirolo, Federica Radicchi, Chiara Tabani, Laura Teani

VOLLEYBALL (24): Men: Oleg Antonov, Emanuele Birarelli, Simone Buti, Massimo Colaci, Simone Giannelli, Osmany Juantorena, Filippo Lanza, Matteo Piano, Salvatore Rossini, Pasquale Sottile, Luca Vettori, Ivan Zaytsev.
Women: Nadia Centoni, Cristina Chirichella, Anna Danesi, Monica De Gennaro, Antonella Del Core, Valentina Diouf, Paola Egonu, Martina Guiggi, Eleonora Lo Bianco, Alessia Orro, Serena Ortolani, Myriam Sylla

MODERN PENTATHLON (4): Riccardo De Luca, Pierpaolo Petroni, Claudia Cesarini, Alice Sotero.

WEIGHTLIFTING (2): Mirco Scarantino, Giorgia Bordignon

BOXING (7): Manuel Cappai, Valentino Manfredonia, Vincenzo Mangiacapre, Clemente Russo, Carmine Tommasone, Guido Vianello, Irma Testa

FENCING (17): Giorgio Avola, Andrea Baldini (reserve), Andrea Cassarà, Marco Fichera, Daniele Garozzo, Enrico Garozzo, Aldo Montano, Diego Occhiuzzi, Paolo Pizzo, Andrea Santarelli (reserve), Ilaria Bianco (reserve), Elisa Di Francisca, Arianna Errigo, Rossella Fiamingo, Rossella Gregorio, Loreta Gulotta, Irene Vecchi.

EQUESTRIAN (6): Stefano Brecciaroli, Emanuele Gaudiano, Luca Roman, Pietro Roman, Arianna Schivo, Valentina Truppa.

TENNIS (6): Sara Errani, Fabio Fognini, Karin Knapp, Paolo Lorenzi, Andreas Seppi, Roberta Vinci.

TARGET SHOOTING (5): Niccolò Campriani, Marco De Nicolo, Giuseppe Giordano, Riccardo Mazzetti, Petra Zublasing.

SKEET SHOOTING (9): Antonino Barilla, Massimo Fabbrizi, Marco Innocenti, Luigi Agostino Lodde, Giovanni Pellielo, Gabriele Rossetti, Diana Bacosi, Chiara Cainero, Jessica Rossi.

ARCHERY (6): Marco Galiazzo, Mauro Nespoli, David Pasqualucci, Lucilla Boari, Claudia Mandia, Guendalina Sartori.

TRIATHLON (4): Alessandro Fabian, Davide Uccellari, Charlotte Bonin, Annamaria Mazzetti.

SAILING (13): Vittorio Bissaro, Mattia Camboni, Roberta Caputo, Francesca Clapcich, Giulia Conti, Francesco Marrai, Giorgio Poggi, Silvia Sicouri, Alice Sinno, Flavia Tartaglini, Ruggero Tita, Silvia Zennaro, Pietro Zucchetti.