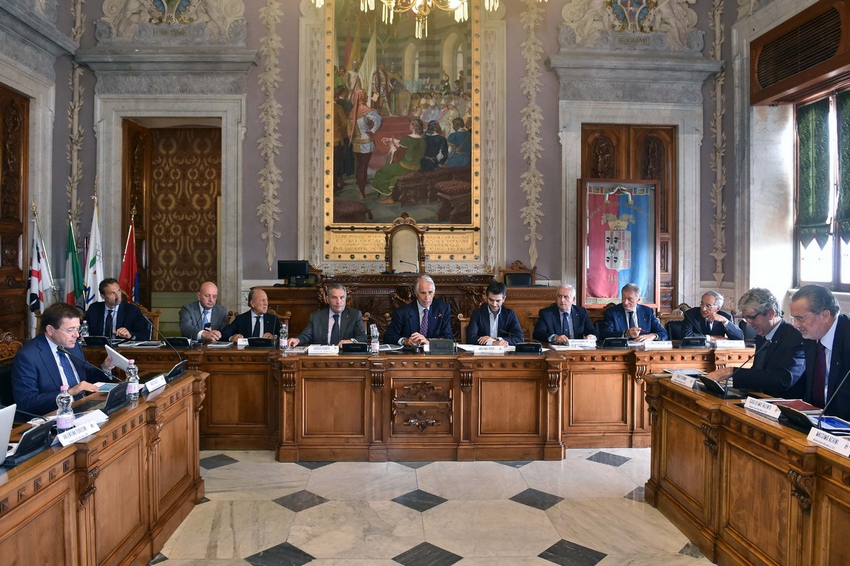 This morning, the 1052nd meeting of the CONI National Committee was held at the headquarters of the Palazzo Reale in Cagliari, the first time in its history in Sardinia. The Committee opened proceedings by approving the minutes of the previous meeting of 6th September. The stage was then give to the Mayor of Cagliari, Massimo Zedda who spoke on behalf of the City, which is a candidate to host the sailing competitions in Rome's bid for the 2024 Olympic and Paralympic Games. During the speech, President Malagò congratulated Sardinia and Cagliari for organising the 2016 Coni Trophy and announced that the next edition will take place in 2017 in Senigallia, Marche.
The Committee then approved the awarding of prizes to the medal winners from Rio 2016. Still on the subject of Rio, CONI's social media channels obtained very positive results, something which was appreciated by the Committee. The flag handover ceremony with standard-bearers Federica Pellegrini and Martina Caironi alongside all the Olympic and Paralympic medallists was confirmed for 12pm on 28th September at the Quirinal with Rai 2 covering the event.
For the very first time, athletes who came fourth will also be invited to attend. Related to the proposal of General Leonardo Gallitelli, Officer in charge of Nado Italia (National Anti-Doping Organisation), Alberto Cozzella and Adele Rando have been added to the first section of the Anti-doping National Court. Governor of Sardinia, Francesco Pigliaru, together with the Police Commissioner of Cagliari took part in the final part of the meeting. After reviewing a long list of other organisational and administrative issues, and having taken the relevant resolutions, the Committee called an end to proceedings at 11.45am.