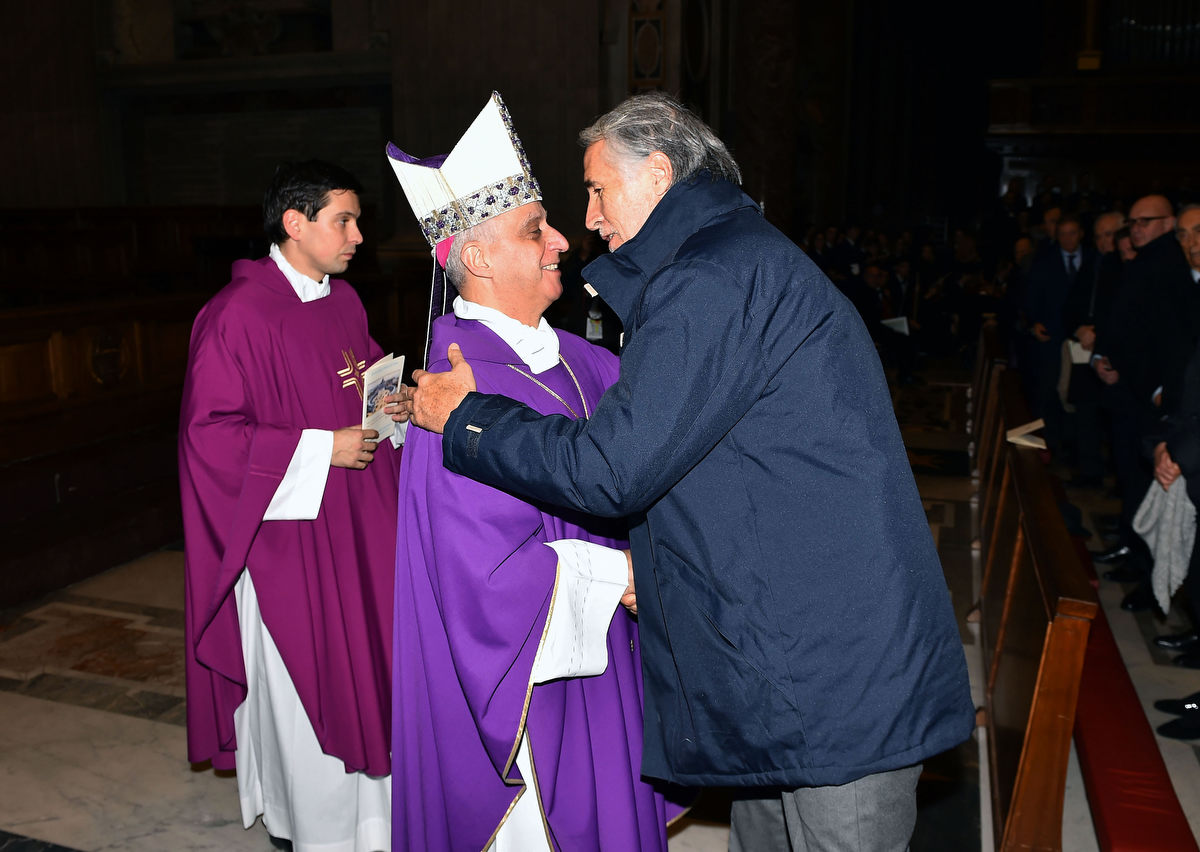 Monsignor Rino Fisichella, President of the Pontifical Council for the Promotion of the New Evangelisation, today officiated the Holy Mass for Sportspeople in St. Peter's Basilica. The Mass was attended by the President of CONI Giovanni Malagó, Secretary General Roberto Fabbricini, Deputy Secretary General Carlo Mornati, President of CONI Servizi Franco Chimenti, Managing Director of CONI Servizi Alberto Miglietta, several members of the Committee and National Council and a representative group of Italian athletes (photo credit: Mezzelani-GMT).
The service was accompanied by the Coro Città di Roma, directed by Lorenzo Porzio, along with the orchestra and choir from the Vittorio Emanuele II National Boarding School in Rome. Introductory liturgical readings were read by Giovanni Pellielo and Sandro Campagna, while Don Mario Lusek, the Italian Olympic team's chaplain, read the first reading from the book of Judges, recounting the birth of Samson. The service was officiated in the presence of, among others, the Under-secretary at the Pontifical Council for Culture of the Holy See, Monsignor Melchor Sanchez.
In his homily, Monsignor Fisichella used the story of Samson as a metaphor for our existence. "Samson was strong thanks to God's spirit. He had to free his people from slavery, and each of us also has a mission – which is not just to win. We must try to truly realise life for what has been bestowed upon us. The important thing is to believe in it. Samson did not fully accomplish the task that God entrusted to him, and so his people were not released at that time. We, too, must trust in the rules that have been set in order to achieve our plan. If you want to reach the finish line, you must uphold and maintain the rules and discipline, and believe in them wholeheartedly. The rest comes by itself. We must have faith, because everything passes, even glory. But if you have faith you will never lose courage. Celebrating Christmas is to believe in the qualities that we have been given and to believe in God, who became one of us so that we could fully be ourselves. Celebrate the birth of Jesus with genuine faith and love".
Antonella Palmisano, Guendalina Sartori, Francesca Porcellato and Matteo Castaldo, along with Sandro Campagna and Giovanni Pellielo, in turn read the prayers of the faithful. Monsignor Fisichella's blessing was the perfect close to Italian sport's 2016 Olympic year, opening the doors for renewed ambitions.