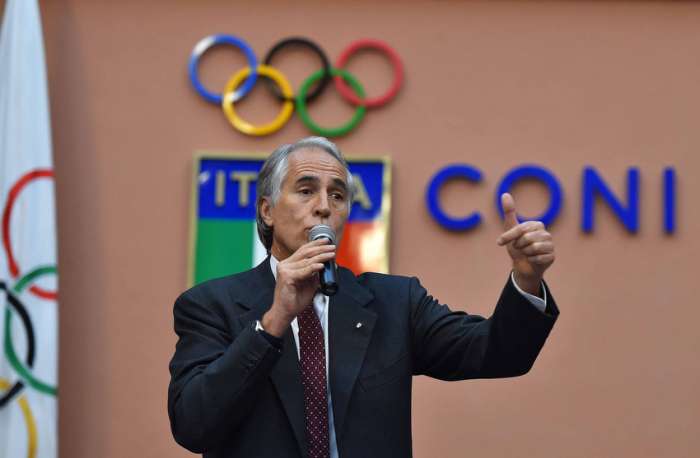 The 249th CONI National Council met today at 3 pm at the Foro Italico to discuss the following agenda:
1) Verbal approval of the meeting of 3 November 2016: The minutes were approved unanimously.
2) The President's statements: Malagò opened proceedings, awarding the Stelle d'Oro for sporting merit to newly elected Fabrizio Bittner (FIPM - Italian Federation of Modern Pentathlon), Andrea Marcon (FIBS - Italian Federation of Baseball and Softball), Giovanni Copioli (FMI - Italian Motorcycling Federation), Gherardo Tecchi (FGI - Italian Gymnastics Federation), Stefania Lenzini, (FITw - Italian Twirling Federation), Fabio Marabini (FCrI - Italian Cricket Federation), Stefano Rossi (FISB - Italian Bowling Federation), Enzo Casadidio (FIGEST - Italian Federation of Traditional Sports and Games), Carlo Andrea Bordini (FID - Italian Draughts Federation), Tiziano Zanetello (FISO - Italian Orienteering Federation), greeting Michele Barbone (FIDS - Italian Federation of Dancesport) and thanking, on behalf of CONI, Elio Locatelli who has moved to FIDAL (Italian Athletics Federation) as the High Ranking Director, for the fruitful efforts made at national and international level, and Emilio Crosato, President of FIPT (Italian PallaTamburello Federation), who decided not to run again.
Regarding the inauguration of the new government, it was highlighted that the introduction of the Minister of Sport is seen as a key opportunity, as the exchange with Luca Lotti can help in further examining key issues. Regarding the federal elections, it was pointed out that, between National Sports Federations (FSN) and Associate Sports Disciplines (DSA), 10 new presidents have already been elected: the average is over the 32% turnover. 11 May 2017 was specified as the date for the CONI presidential election. Malagò then addressed the Committee, thanking it for its contribution and mentioning that, despite the pain of Rome 2024, sport is one of the country's strengths.
Also, participating on the report and other subjects were: Giovanni Petrucci, Mario Pescante (member of the IOC- International Olympic Committee), Ugo Salines, Andrea Mancino.
3) Territorial organisation: The regulation of CONI's territorial organisation was unanimously approved – amendment to resolution 1544 of 9 November 2015.
4) FSN-DSA-EPS activities: The following resolutions were unanimously approved: 1) Annual limit on foreign athletes entering from outside the European Community (1160 athletes) 2) Registro Nazionale delle Associazioni e Società Sportive Dilettantistiche [National Register of Associations and Amateur Sports Societies] - List of eligible sporting disciplines 3) Approval of election procedures for electing members to the National Council (representatives of athletes and coaches, from territorial organisations, from Sports Promotion Bodies, from Associate Sports Disciplines, from Meritorious Associations), the President and the CONI National Committee.
With no other matters arising, proceedings were closed at 4:20 pm.