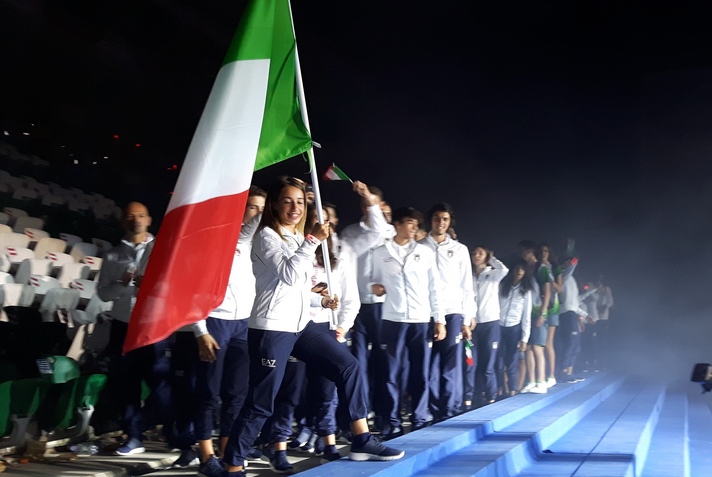 "Talent now, idol of the future!" With this slogan, that is intended to represent the important role of this event in human and sporting growth of talented youth who participate, the XIV edition of the European Youth Olympic Festival opened up in Gyor, Hungary.
First to welcome the more than 2500 young athletes from 50 European countries was 1988 Seoul Olympian pommel horse athlete, Zsolt Borkai as mayor of the city of Gyor and president of the EYOF 2017 organising committee. Following him was the interim President of the European Olympic Committees (EOC), Slovenian Janez Kocijancic, who remembered the ceremony celebrated on 22 May in Rome at the Ara Pacis, once again pointing out how "Every athlete is right to be proud of his or her country, just as every country is right to be proud of their athletes."
The programme continued with the swearing in of the athletes, referees and technicians, leading up to the most long-awaited and thrilling event for the athletes who had come to the Hungarian city: the procession. As with all Olympic events, Greece was the first nation on the field, followed by the other 48 nations before concluding with the host nation. More than 170 athletes and officials participated in the procession for Italy with cyclist Sofia Collinelli bearing the Italian flag. Once all the teams were on the grass of the Evo Stadium, a relay of former Hungarian athletes delivered the torch to five-time Olympic swimming champion Kristina Egerszegi who lit the Olympic flame. Today was the first day of games with the Italians involved in 5 disciplines (Tennis, Swimming, Athletics, Basketball and Volleyball). The first swimming medals were awarded in the afternoon.