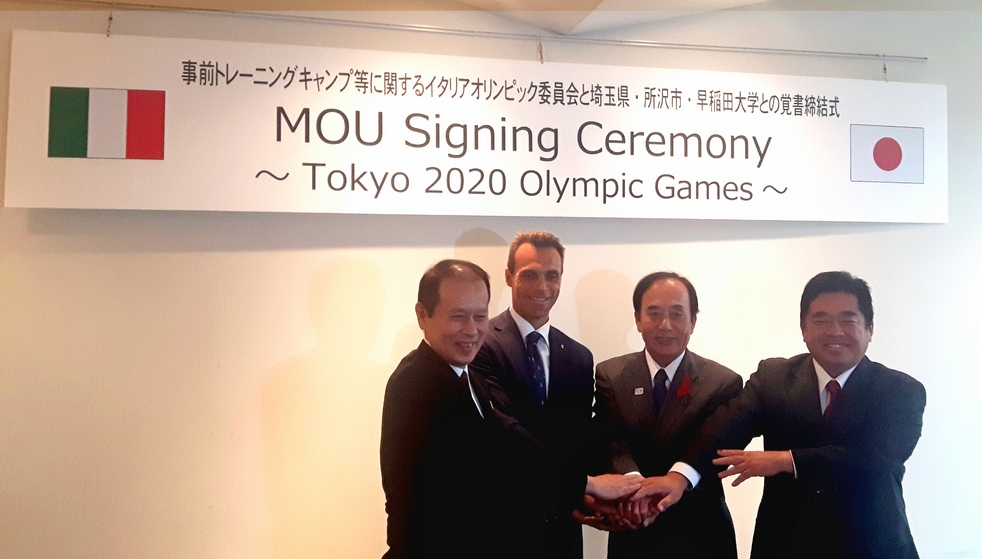 Today, at the Italian Embassy in Tokyo, CONI's Vice Secretary General and Head of Olympic Training, Carlo Mornati, signed a memorandum of understanding between the Italian National Olympic Committee, the Saitama Prefecture, the city of Tokorozawa and Waseda University for the use of a university campus to host the Italian athletes and facilitate their training before the Tokyo 2020 Olympics.
The Italian Ambassador in Tokyo, Giorgio Starace, did the honours in the presence of the Governor of Saitama, Kiyoshi Ueda, the Mayor of Tokorozawa, Masato Fujimoto, the President of Waseda University, Kamata Kaoru, the President of the Organising Committee of Tokyo 2020, Yoshiro Mori, and the Vice Presidents of the Japanese Olympic Committee, Yasuo Saito, Seiko Hashimoto and Eisuke Hiraoka.
In particular, the agreement guarantees Team Italy the benefits of the prestigious area of Tokorozawa, a location with exclusive characteristics due to the variety of buildings and uniqueness of the spaces offered, by virtue of the presence of both an athletics field and Olympic-size swimming pool, a rare and special combination situated in greater Tokyo.
The campus is also equipped with an archery facility, six grass tennis courts, a covered multi-use sports hall and a multi-functional pitch. Tokorozawa also represents a logistically optimal solution given the additional benefit of an on-campus canteen and accommodation, which will save the Italian athletes travelling time and energy during the lead-up to the Olympics.
Following intense and successful scouting activities carried out by the Sports Area and Olympic Preparation by Anna Riccardi less than 3 years before Tokyo 2020, the Italian National Olympic Committee is the third in the world to have identified a location multi-use sport that meets athletes' needs during the Olympic Games. The operational details of the agreement signed today, the specific campus buildings to be used and the actual period of the training camps will be determined, before 2018, based on Team Italy's specific requirements, the most comprehensive schedules of the various Federations and the developments determined by the first Olympic qualifying tournaments.