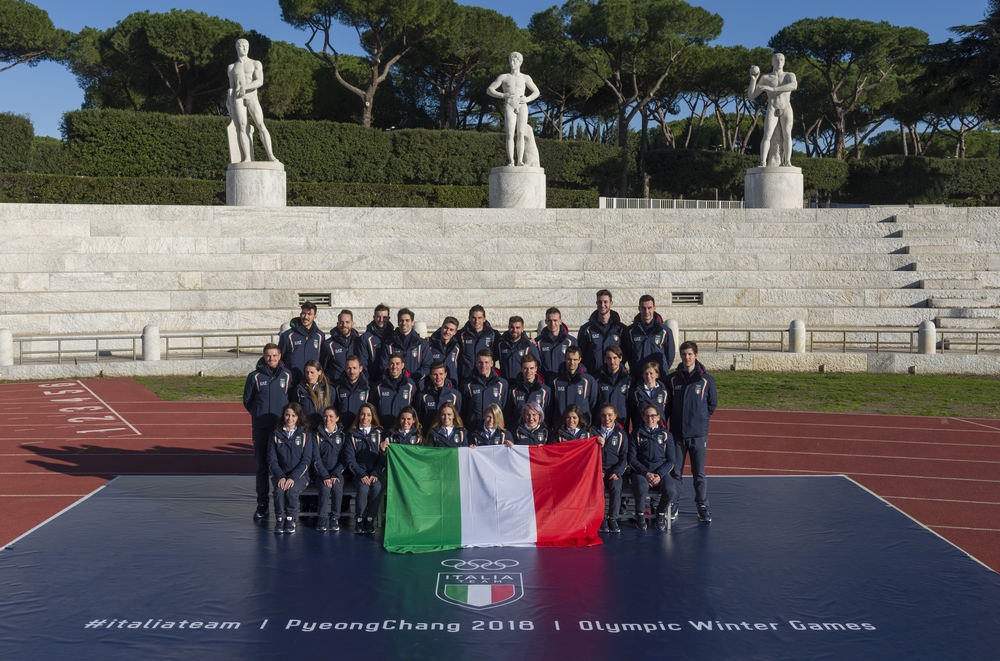 EA7 Emporio Armani will be the official outfitter of the 2018 Italian Olympic and Paralympic teams for the Winter Games in Pyeongchang. This is a continuation of the collaboration between Giorgio Armani, CONI and the Paralympic Committee, which began at the London 2012 Games and continued at the Winter Games in Sochi in 2014 and the 2016 Games in Rio.
The athletes will wear sportswear by EA7 in their free time and on official occasions for the duration of the event. The kit delivered to each athlete is a modular wardrobe that includes a technical-fabric ski tracksuit and mantle, a long down coat, a polo fleece shirt, a blue and white T-shirt with tricolour pattern, a jumper, warm cotton trousers and a seamless cotton layering set. Accessories complete the look: gloves, a hat, a scarf, trial waterproof shoes with anti-slip grip in high-top and low-top versions, a luggage trolley, a gym bag, a boot backpack and a messenger bag.
The sportswear comes in elegant, signature midnight blue with Italian-flag-colour details and features the EA7 logo. The ski tracksuit for the podium stands out with its sleek, active look; the technical fabric is made with cutting-edge, high performance materials that meet the highest quality standards.
The sense of pride and belonging, which is key to this design project, is expressed in a discreet but incisive manner: inside the jackets and sweatshirts, the first verse of the Italian national anthem is printed in gold script, while the polo shirts feature the same words, printed on the blue webbing visible when the collar is turned up.