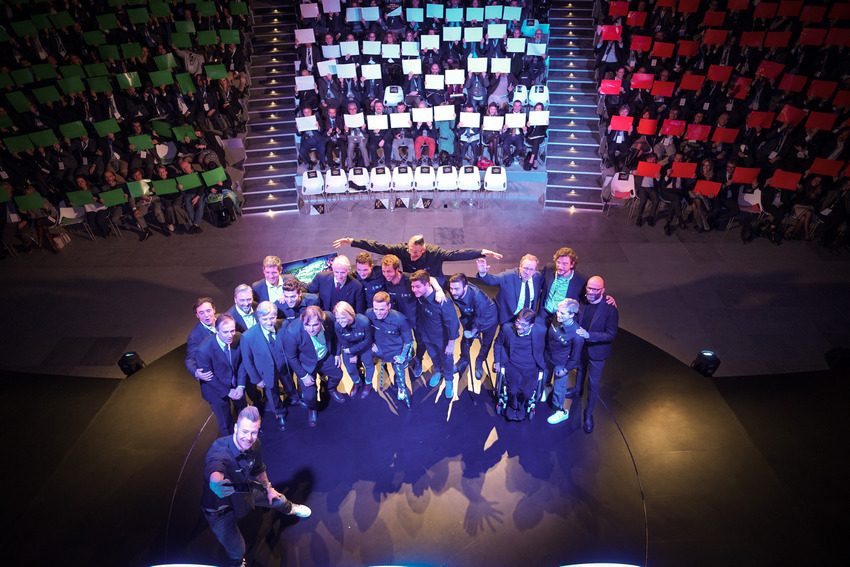 The President of CONI, Giovanni Malagò, this morning took part, in the showroom of Toyota Italia, in the Italian launch of the corporate initiative "Start Your Impossible", Toyota's first global campaign, widespread throughout the world and inspired to the partnership with the Committees of the next Olympic and Paralympic Games, which marks the start of a new course for the brand which wants to establish itself, more and more, as the Mobility brand: an overall mobility operator.
In fact Toyota is committed to offering the integrated use of vehicles, advanced technology, innovation and robotics, the best possible mobility for everyone. Toyota believes in the realisation of a completely sustainable society where everyone is able to overcome their own limitations, using mobility systems that are not limited to motor vehicles and that allow free movement, without obstacles, be they social or physical. "Start Your Impossible" is precisely the theme of this campaign: a new path, a new way to face up to challenges and overcome one's own limitations, a courageous but essential change. Today Toyota is a brand committed to ensuring freedom of movement for everyone, with the purpose of ensuring the best living conditions for everyone, including those affected by more or less significant disabilities.
Through the values of sport, it promotes a society free from discrimination, where everyone can face up to their own challenges and, as the first Olympic and Paralympic Games "Mobility Partner", it aims to offer new generation mobility services, transport solutions and advanced technologies to the service of people, also within the home.
In line with the spirit of Start Your Impossible, an Ambassador Team was selected in Italy: the Toyota Team, formed by Italian athletes in the various Olympic and Paralympic disciplines such as: Bebe Vio (Fencing), Ivan Zaytsev (Volley), Arianna Fontana (Short Track Skating, Italian standard bearer at the next Olympic Games in PyeongChang in 2018), Paolo Lorenzi (Tennis), Andrea Pusateri (Paracycling), Filippo Tortu (Sprinter), Anna Cappellini/Luca Lanotte (Figure Skating), Para Hockey Club Torino Tori Seduti (Paralympic Ice Hockey), Gabriele Detti (Swimming).
These athletes best embody the Toyota values, the application of the Kaizen spirit linked to continuous challenge, overcoming of one's own limits, respect of people and team work.
"Toyota's history has always been about passion, courage and innovation to make the impossible possible – declared Andrea Carlucci – Toyota Motor Italia's Chief Executive Officer - We started with distant challenges: in 1997, when the Prius hybrid was first introduced, nobody thought we would achieve the results we have achieved today. We never pulled back and, bravely, we set always greater objectives for ourselves. We continued with hydrogen and in 2014 we created Mirai, our series saloon powered by this resource. Today, with Start Your Impossible, Toyota reaches a fundamental target: again we state our being a true Mobility brand that spreads the concept of mobility incorporating motor vehicles, technology, innovation, artificial intelligence and robotics to be put at the service of people, also with disabilities, to improve their quality of life.
The work carried forward at national level with CONI and CIP, and the choice of a Toyota team, represents the confirmation of the existence of shared intentions, based on elements such as the continuous improvement that for us represents a fundamental value to guarantee what our president, Akio Toyoda, referred to as "Ever Better Mobility for all".
"The car has taught me much - Mr Malagò declared -. If I am now the President of CONI, in fact, it is because my family company received a return from cars. Over the years I have worked with almost all car brands, even if at the time we were not able to find an agreement with Toyota. After a few years I can state that we were both right because Toyota wanted someone who could dedicate their time to their project full time and we, on the other hand, were too busy with other brands. But I have always considered Toyota as something different, it has the ability to anticipate choices that are often risky but the results are undeniable. We are absolutely talking about the brand with the highest production and the greatest number of sales. We are proud to be here. Toyota Motori Italian have given us their trust until 2024: it is an extremely important declaration and they will be proved right. I must thank the CIO because it was truly because of the International Olympic Committee that we are here. In fact, we are an expression of that international partnership but if we had not had our own appeal this all Italian connection would not have taken place. Here, today, are my two worlds: cars and sport, a magic combination, an historic occasion, also a personal one, which will bring luck to the CIP, to CONI and above all to Toyota Motor Italia".
"I want to thank Toyota Italia and Andrea Carlucci for the extraordinary opportunity offered to the Italian Paralympic Committee and, more generally, to Italian sport. - Luca Pancalli, CIP's President, stated - I believe that like nothing before, the campaign claim, "Start your impossible", perfectly matches the personality of everyone of our Paralympic athletes, always looking for new challenges and limits often believed to be insurmountable. They challenge the impossible every day. It is made of elements such as determination, sacrifice, an almost obsessive search for new targets, all pervaded by the research for new and better performing technologies, to be the transferred to the service of everyone. To know that there are partners which have adopted the same principles as the characteristics of their lives, is for them and for all of us a further motivation for growth, not only from a sport point of view, but also in terms of developing the concept of inclusion that is part of the DNA of all of us".