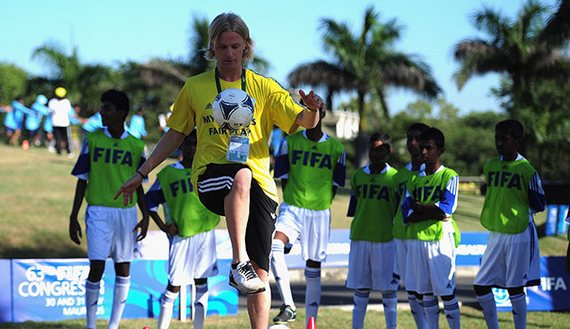 FIFA Ambassador for Fair Play, Simone Farina, has been appointed an Athlete Role Model for the upcoming Nanjing 2014 Youth Olympic Games. Joining a line-up of 37 high-profile sports stars, the Athlete Role Models will offer support, mentoring and advice to the 3,800 young athletes who will be participating in the Games, with all 28 sports providing a representative. They will also take part in workshops and educational activities with the young athletes, covering topics such as anti-doping, nutrition and irregular and illegal betting.
"We welcome Simone's appointment as an Athlete Role Model for the Youth Olympics," said FIFA President Joseph S. Blatter. "He spoke out against match-manipulation and in defence of the positive values of football. That's why FIFA is proud to have him as an ambassador for Fair Play."
Former Roma defender Farina hit the headlines for his key role in helping to stop a match-fixing attempt in Italy in November 2011. His evidence helped lead to the arrest of 17 people, and Blatter named Farina as a FIFA Ambassador for Fair Play. INTERPOL, who investigated the match-manipulation scandal in Italy, also awarded Farina a commemorative medal for his contribution to crime prevention and law enforcement.
"In creating the Youth Olympic Games, the IOC has developed a mission of building an event that educates, engages and empowers aspiring young people around the world to play a positive and active role in their communities," International Olympic Committee President Thomas Bach told Simone. "Your involvement and participation in the Youth Olympic Games will have an enormous impact on helping fulfil this mission. Your success as an athlete and your life experiences will serve as an invaluable model for the young Olympians who will be competing in Nanjing.
The football tournaments of the 2nd Summer Youth Olympic Games will be played from 14 to 27 August in Nanjing, China, with six teams for both boys and girls.