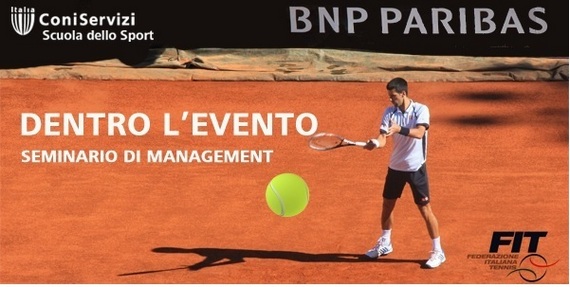 The CONI School of Sport is organizing an exclusive event to combine a didactic meeting dedicated to the field of sport management together with the a big sport event: the Italy BNL Internationals Tennis Tournament.
The meeting, arranged for the 16th and the 17th of May at Olympic Pereparation Centre at the Acqua Acetosa, has the aim to examine in depth - with the experts of the sector - subjects such as the concept, the addresses, the ideas, the prelimanry evaluations, the business plan, the analysis of the business policy, fundraising, ticketing, the relations between the reference public administration and the higher-level sport organizations, the relationships with the customers, with media and P.R. and the development of digital communication, the report and the analysis of the economic and social returns, the analysis of the national, territorial and international best practices.
It is expected that the seminar is going to include one day and a half of lectures, dedicated to the strategies for enhancing a tennis tournament, talking about the experience of Italy BNL Internationals, and an entrance to the tournament itself for the evening matches of the 16th of May. The seminar is addressed to all the managers operating in sport organizations: advisors, event organizers and indepedent professionals, marketing and communication experts.