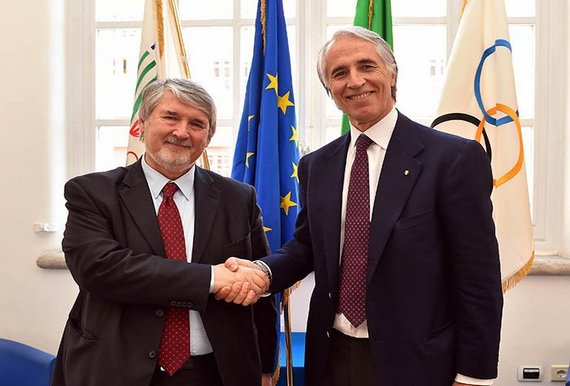 CONI President, Giovanni Malagò, and the Labour and Social Policies Ministry, Giuliano Poletti have presented today, at the Honor Room (Salone d'Onore), the program agreement in the field od social integration of migrants through sport and fight against discrimination. The agreement, which was signed on the 23rd of December, has the aim of developping a sinergic action for the creation of activities in order to enhance the inclusion of foreign population in the economic, social and cultural life, thanks to a fruitful awareness campaign carried out through the sport movement.
President Malagò has underlined, opening the press conference, the importance of the contents of the agreement. "This protocol includes values that are precious in our workd, as the loyalty, correctedness and aggregation. The benefits derived from this initiative concern not only the sport but the whole country. In this regard, I think that the Ius soli issue is important to be at the same level with the other nations and to give a fundamental message in this field."
Malagò has also reminded the high profile of the Scientific Committee insituted by CONI and by the Labour and Social Policies Ministry in order to draft the "Manifesto of sport and integration", headed by Walter Veltroni and by the members Vincenzo Spadafora, Authority for Childhood and Adolescence, Renato Villalta, President of Bologna Virtus basketball team, Vincenzo Iaconianni, President of Federmotonautica, member of the administrative committee of Coni Servizi and Professor at the European University of Rome, Fiona May, member of CONI Board and olympic athlete Diana Bianchedi. Minister Poletti, former President of the Italian Handball Federation, after greeting the sport world and FIGH President, Francesco Porromuto, has amplified the concepts expressed by Malagò, widening the perspective. "It would be necessary that we would grow on the awareness that such plurality of forms and stories is a huge richness, instead of a fear and a worry.
Organization culture and sport practice produce well being, for this reason it is necessary to apparaise the cultur of integration."
General Director of immigration at the Ministry, Natale Forlani, also took part in the meeting, indicating how sport is an emanation of values and a clear instrument to bring people together in events and competitions which favour integration." Teresa Zompetti, CONI Social Responsibility Manager, has gone into the details of the agreement. "The diffusion of the manifesto, identified by a claim and a hashtag, will be essential in order to promote equal opportunities for everybody, the ideas of friendship, respect and sport spirit as well as of rules. The spreading of these principles will be the characteristic of a few events, such as the one of the 11th of May on the main sport fields, during the day of sport and integration, a workshop on sport and integration and an online contest, from May to June, on the key principles of the manifesto."