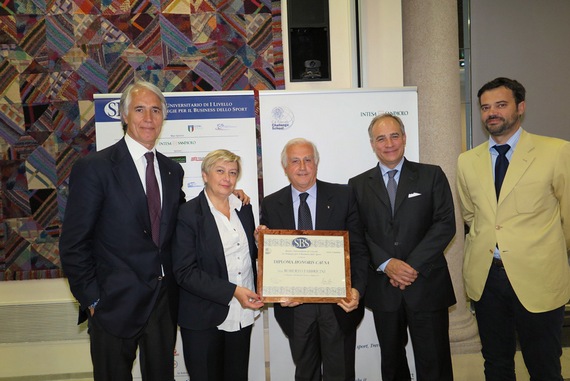 CONI General Secretary Roberto Fabbricini has received today the SBS Master Diploma ad Honorem by the Meeting Room of Intesa Sanpaolo in Milan, in the context of the annual conference on "The social responsability of companies towards the territory", organized by Verde Sport, operative branch of Benetton Group sport sector. The ceremony has taken place in the presence of CONI President Giovanni Malagò, of Christian Benetton, Benetton Group CDA member, and Gabriella Gemo, Corporate Manager Image Intesa Sanpaolo. Roberto Fabbricini has expressed its satisfatction for the recognition obtained: "Sport is life for me, an unique way to get to know the world and special people. I'd like to share this diploma with all CONI directors and Federations, which are working on the territory with sacrifice". Intesa Sanpaolo is the main partner of the event and of the First Level University Master in Strategies for Business in Sport. In such occasion, in addition to Fabbricini, also Gianpaolo Pozzo (Udinese Football Team President), Antonio Bulgheroni (Lindt Italia President, former President of the great Varese Basketball Team) and Maurizio Gherardini (Oklahoma City Thunders, first non-American director in the NBA) have been awarded with the SBS Master Diploma ad Honorem.
CONI President Giovanni Malagò has declared his satisfaction: "Sport is always social commitment, seeing these small masters gives me an unbelievable energy: sport is worth 3% indirect of GNP in Italy, it is a huge proportion. The SBS Master is a serious idea which has been materializing and consolidating in the last 10 years, I have always believed in this since its first edition, taking part in it with the Cannottieri Aniene: if I had a son at an age suitable for the Master, I would surely make him do it". Christian Benetton: "SBS Master is one of the flagships among the projects that our family, through Verde Sport, has conceived in order to create additional value in a fascinating and complex world such as this one and to give concrete opportunities to young people with goodwill: placement data, 89% of the first 8 classes of SBS Master, testify that this is a good idea".
Gianpaolo Pozzo: "I must say that at the beginning of my journey in the world of football it was difficult to invest and work in sport, in the last few years the situation has improved and it is possible to work with more professionalism, also thanks to a new course inaugurated by CONI". Antonio Bulgheroni: "I am lucky, first of all because I had my family who encouraged me to do sport since I was very young, and secondly because I was born in Varese in an important historical moment for sport". Maurizio Ghelardini: "We must have the courage to face life challenges, many things can change and we must catch the opportunities".