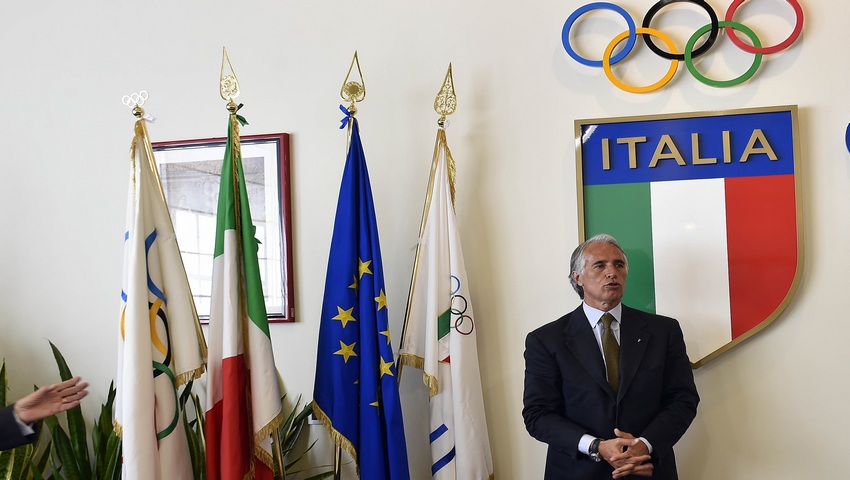 The 1026th meeting of the CONI National Board has taken place this morning at the Foro Italico, starting its works with the approval of the previous meeting minutes of the 11th of June. In his communications, President Malagò has started the meeting showing its full sharing and appreciation of Giancarlo Abete who resigned as FIGC President after the World Football Championships in Brazil. On its side, CONI will help the steps approaching the Elective Assembly already called for the 11th of August.
As far as the Italian Grass Hockey Association is concerned, the Board has accepted President Luca Di Mauro's resignation, who at the same time has requested the designation of a Special Commissioner through a letter.
After having heard the report of lawyer Alberto Angeletti on the administrative verifications carried out about the Federation, the Board has decided to appoint as Special Commissioner Ugo Claudio Matteoli (FIPSAS President) and as vice commissioners Pierluigi Matera (for the judicial-administrative side) and Giovanni Admo Rossi (for the sport side). A conference will take place on the 23rd of July at 12:30 pm in the Board Room (Sala Giunta) by CONI with the partecipation of Malagò, Di Mauro, Matteoli e Fabbricini. The new CONI website has been presented, having the focus of interest on the athletes and sport with more attention given to social media compared to the previous version. President Malagò has thanked Coninet for the technological assistance and the Press Office of CONI for the contents. A new work group has been nominated in order to understand and promote the world of Associated Sport Disciplines for any future network or integration. The group will be made up of Mario Pescante, Riccardo Fraccari, Alfio Giomi, Carlo Magri, Roberto Fabbricini, Marco Scolaris and Guido Valori. President Malagò has then proposed to the Board the appointment of Aurora Tognetti as standard bearer by the Youth Olympic Games in Nanjing 2014. Tognetti has been presented tot the Board which has welcomed her with a warm applause. It is first time that a pentathlete has the role of standard bearer. The composition of the delegation to Nanjing has also been approved: Head of the delegation will be Vicepresident Giorgio Scarso and Vice Head of the delegation will be Alessandra Sensini. Head of the Mission will be Anna Riccardi. The team is made up of 69 athletes, 33 boys and 36 girls, eight more people compared to the previous edition of Singapore 2010. Finally, a resolution has been approved to be brought to the National Council about the first 2014 CONI budget remodulation. After examining a long series of other organizative and administrative subjects, and having approved the corresponding resolutions, the Board has ended its works at 1:00 pm.