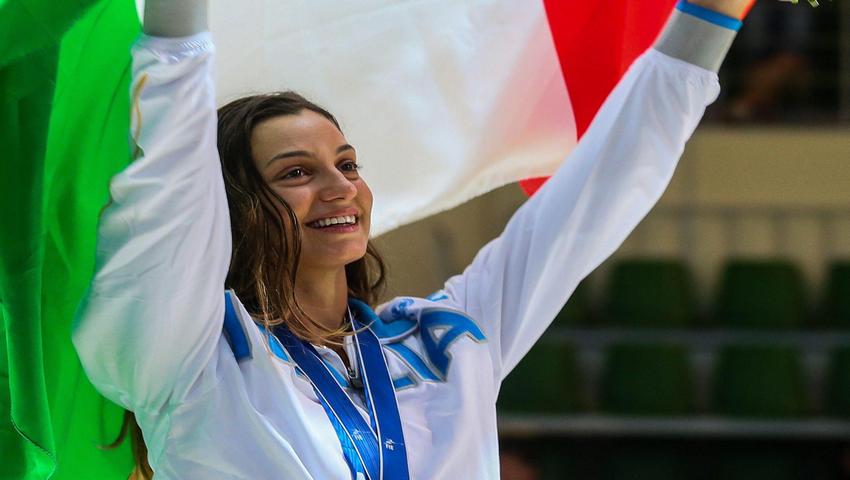 Rossella Fiamingo is the new World Champion in the women epee! This is the result of the World Championship final at Kazan 2014, who has seen the Italian overcoming German athlete Britta Heidemann 15-11, Olympic silver medalist at London 2012 and with a rich record of achievements. Rossella Fiamingo, 23 years old since six days, brings back to Italy a title that was missing since Athens 1994, when Laura Chiesa won.
"I cannot believe it yet", the Italian repeats while receiving the embrace of the Technical Commissioner Sandro Cuomo, of her National teammates and all the Italian epee staff.
This is a specialty which, at its sixth day, has also the mark of Enrico Garozzo, winner of the bronze medal, defeated in the semifinal only by Korean Kjoung-Doo with 15-10, allowing Italy to be at the head of the medal list per country.
The Italian women epee is back on the podium of the Championships four years after the edition of Paris 2010 when the bronze medal came thanks to Nathalie Moelhausen who, fatally, has been the first rival of the day for the young Italian. This has been almost a "handover" between the two former National teammates, since Nathalie Moelhausen, defeated by Rossella Fiamingo 15-6, has chosen to defend Brasil, her second passport nationality. The path of the azzurra has then gone on with the win over Korean Choi 15-5, then in the round of 16 over Russian Violetta Kolobova 15-7 and in the quarterfinals over Estonian Irina Embrich who, previously, had interrupted the run of the former World Champion, Rumenian Ana Branza. In the semifinal, the victory against the Ucranian Yana Shemiyakina 13-12 and, fin the final, the fencing assault to the title against the German Heidemann.
Enrico Garozzo on his side is enjoying her first medal since he has left the under 20. The azzurro, 25 years old from Acireale, has been defeated in the semifinal 15-10 by Korean Kyoung-doo Park. The highest cry from him came after winning the assault of the quarterfinals against Estonian Sten Priinits 15-9. After defeating German athlete Norman Ackermann 15-8 and Russian Khodos 15-12, he has overcome in the run of 16 the Korean Jinsun Jung, Olympic bronze medalist at London 2012, with the score of 14-13 at the end of an assault that has seen Garozzo going from 6-10 to 13-10 and then stopping the coming back of the rival.