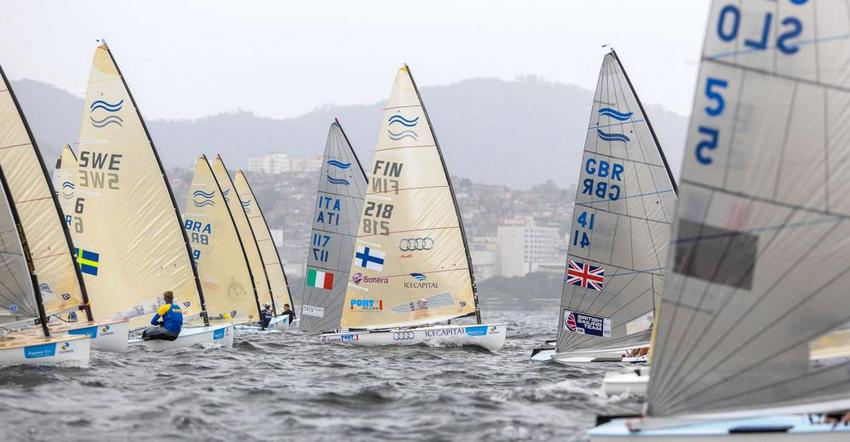 After the stop on Monday because of lack of wind, finally yesterday Rio bay offered perfect conditions for the 324 sailors dealing with the 3rd day of the Aquece Rio-International Sailing Regatta, the test event of the ten Olympic classes taking place in the waters which will host the regattas of next 2016 Olympic Games, with the logistic base in Marina de Gloria. All at sea, therefore, managing a nice strong wind from south-west of more than 15 nodes, caused by a low pressure front which only passed close by the bay, with a very formed sea and long waves, particularly in the regatta fields in the open sea.
A positive day for Italian sailing, which has had as protagonists Giorgio Poggi (Finn) and Flavia Tartaglini (windsurfing). The Ligurian has obtained a second and two fourth places in the three competitions taken place; these results have projected him to the third place (13-10-4-2-4) of the classification lead by the English Giles Scott. The Roman athlete, number 1 of the class world ranking system, instead, has finished the day with a victory, a third and a ninth place, which were good to go up to the fifth place in the general classification (8-14-3-9-1). At the head is French Charline Picon, while the other Italian athlete Laura Linares is 12th. Talking about the RS:X among the regattas competed also by men 22th place for Marcantonio Baglione, in the classification having at the head the Dutch athlete Van Rijseelberge and the Greek Kokkalanis.
The last Italian athlete present in Rio, Francesco Marrai (Laser Standard) has instead obtained 4-14-13 during the day and he is 11th in the classification lead by Australian Tom Burton. These are the leaders of the other classes: Nacra 17, Bundock/Curtis (AUS); 470 M, Belcher-Ryan (AUS); 470 F, Haeger-Provancha (USA); 49er, Outteridge-Jensen (AUS); 49er FX, Grael-Juntze (BRA); Laser Radial, Tuula Tenkanen (FIN).
Today the azzurri will come back to the water with a schedule of three competitions both for classes RS:X M and F (Campo Pao de Azucar, starting from 12, local time), and for Finn (Campo Niteroi, from 12) and Laser Standard (Campo Copacabana, from 12:10). The impressions about Rio bay are very good, as the DT of FIV Michele Marchesini has underlined: "this place has confimed to be really a good place to practice our sport and the organization of the regatta is excellent." "The wind varies greatly both in intensity and in direction," Flavia Tartaglini has added, "and it is very difficult to read, but I like it a lot. The place is incredible and the regattas are beautiful and intense".