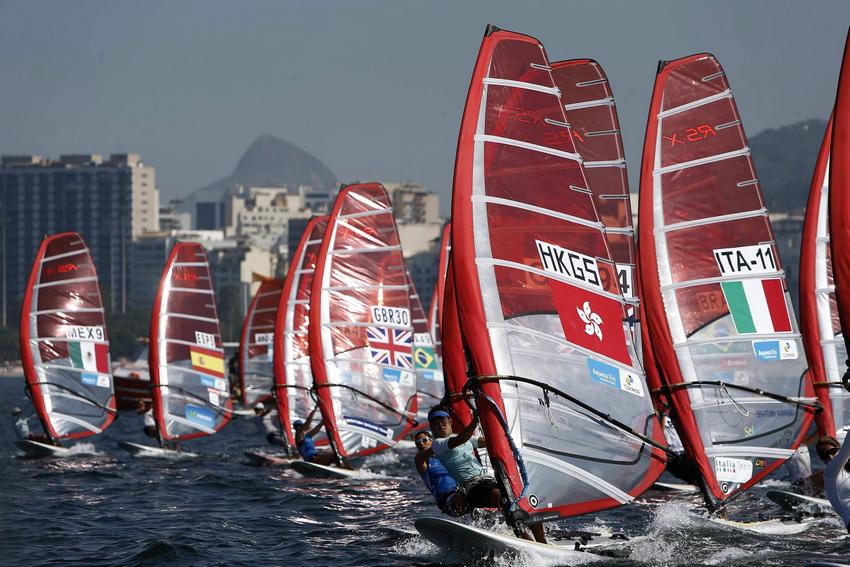 Rio bay is continuing to provide excellent conditions also in the fourth day of the Aquece Rio-International Sailing Regatta, characterized by a nice sun and by a 15-node-breeze which has spread on all over the regatta fields. The test event of the ten Olympic classes, which is scheduled until Saturday with a logistic base in Marina da Gloria, is starting thus to get into high gear and among the protagonists of the day we can find one more time the azzurra Flavia Tartaglini (RS:X F windsurfing): yesterday she obtained a fourth and two second places, these results have led her to the second place in the temporary ranking dominated by French Charline Pichon, who has been on the first place four times in eight competitions and on a fifth place as the worse result to be eliminated. Both of them, together with the others on the ranking top ten, will be competing today in the Medal race. The other Italian athlete Laura Linares is at the fourteenth place and so she is out of the Medal.
In masculin RS:X (headed by Dutch Dorian Van Rijsselberge) Marcantonio Baglione is 21st, while in the Finns Giorgio Poggi is 7th, with the English Giles Scott distancing his rivals, and in the Laser Standard Francesco Marrai is 12th in the ranking having the Australian Tom Burton as a leader, followed by only one point by English Nick Thompson. These are the teams at the head of the other classes:
Nacra 17, Besson-Riou (FRA); 470 M, Belcher-Ryan (AUS); 470 F, Aleh-Powrie (NZL); 49er, D'Ortoli-Delpech (FRA); 49er FX, Grael-Juntze (BRA); Laser Radial, Annalise Murphy (IRL). The schedule today includes the Medal race competition for both RS:X classes (starting from 1 pm, local time, in the regatta field of Pao de Azucar) with Tartaglini starting 16 points behind Pichon and 11 points ahead of Spanish athlete Alabau. Three are the regattas for Laser Standard, Laser Radial, Finn, 470 M and 470 F, and four regattas for 49er, 49er and Nacra 17.​