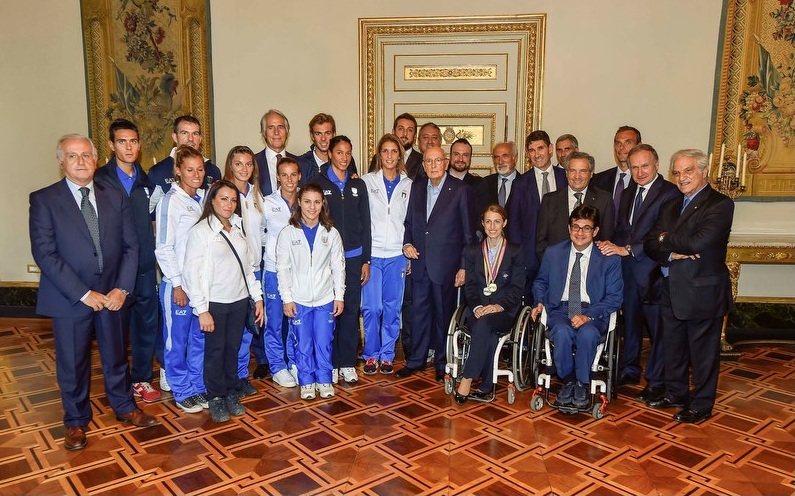 The tricolore glistening of Italy medals is always a synonym for emotions, intense, vibrant emotions capable to lighten the stage. It is a pride uniting people thanks to the excellence of Italian athletes, capable to conquer the world. President of Italy, Giorgio Napolitano, has had the desire to pay homage to sport receiving in the private room of General Secretary Donato Marra at the Quirinale Palace a delegation of Olympic and Paraolympic athletes who won medals at recent World and European Championships, in order to celebrate a summer of satisfactory results and success. The Italian delegation was lead by CONI President Giovanni Malagò, General Secretary Roberto Fabbricini, Vice President Carlo Mornati, Italian Paraolympic Committee President Luca Pancalli, CIP General Secretary Marco Giunio De Sanctis and federal Presidents Riccardo Agabio (gymnastics), Paolo Barelli (swimming), Alfio Giomi (athletics), Giovanni Petrucci (basketball) and Giorgio Scarso (fencing).

The Head of State has shown up at the private audience as a sportsman among sportsmen, that is without a tie: "Malagò is a master of elegance, but today is a very humid day and having also to speak to an audience I rather had the collar of my shirt open. I wanted to meet you to make you feel my sympathy and all of Italy's; we are meeting each other very often because you win very often".
Napolitano has thanked the champions with a few, sharp words. "I thank you on behalf of this country because your medals and your successes are something all of us can be proud of". Armin Zoeggeler, Italian flagbearer at the Winter Games in Sochi 2014, has returned the tricolore flag to the President with all the signatures of Italian athletes awarded with medals during the Olympics. At the audience there were Tania Cagnotto and Francesca Dallapè (diving), Gregorio Paltrinieri (swimming), Libania Grenot and Daniele Meucci (athletics), Arianna Errigo and Rossella Fiamingo (fencing), Vanessa Ferrari (gymnastics), Genny Pagliaro (weightlifting), Marco Belinelli (basketball), Sara Morganti (Paraolympic equestrian sports) and Piero Alberto Buccoliero (paracanoe). Malagò has claimed "the pride of Italian sport about these great Italian athletes: they are very special athletes, and they must be a role model".