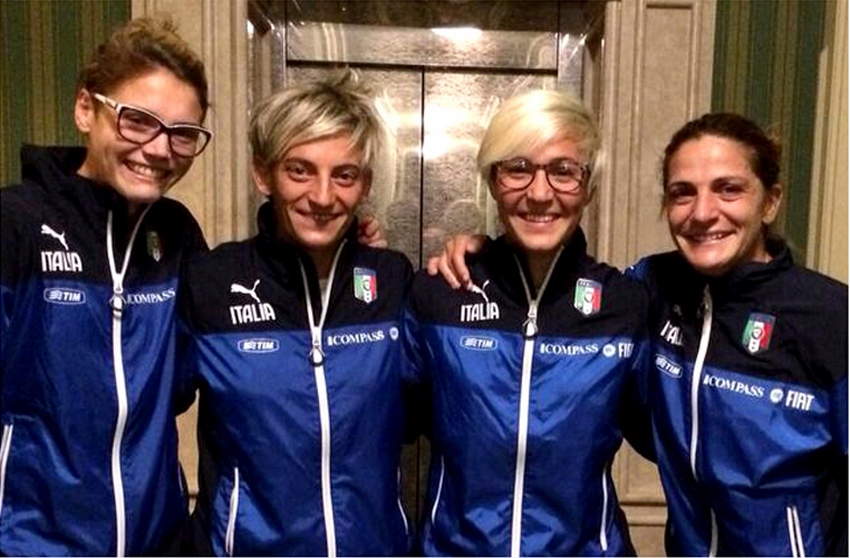 Ninety minutes to secure a place at Canada 2015 and play in the final stage of a World Cup again, fifteen years after USA '99. Tomorrow at 20:30 at the "Bentegodi" Stadium in Verona the national women's football team faces the Netherlands in the second leg of the finals of the World playoffs. The Federal President, Carlo Tavecchio, and the new President of the National Amateur League, Felice Belloli, will also attend the match and will cheer on the "Azzurre" in a match that will have a particular flavour for the four girls who play in AGSM Verona: Patrizia Panico, Melania Gabbiadini, Cecilia Salvai and Federica Di Criscio.
The first leg ended 1-1 thanks to a beautiful goal scored by Melania Gabbiadini: "The audience must cheer and support us with everything they've got – this is the call of the forward - because anything could happen after our draw at The Hague". Italy will rely on the experience of Patrizia Panico, that can boast more than 200 appearances in the National team: "We expect a tough game from the competitive point of view – she warns - they will surely begin to press on the accelerator immediately and we will have to be careful not to repeat the same mistakes of the first leg. We will have to fight for every ball as if it were our last".
Experience is essential, but to be able to fly to Canada we will also need a good dose of enthusiasm. Like the enthusiasm of Cecilia Salvai and Federica Di Criscio, both born in 1993, the present and future of the Italian defence: "This time - emphasizes Salvai - we have the advantage of playing at home. We want to win, to score first, even more than one goal. We will not simply defend the previous draw." "The Netherlands - reiterates Di Criscio - is a very strong team. We will have to take the field while being aware of our strength, believe in it, and play to win."