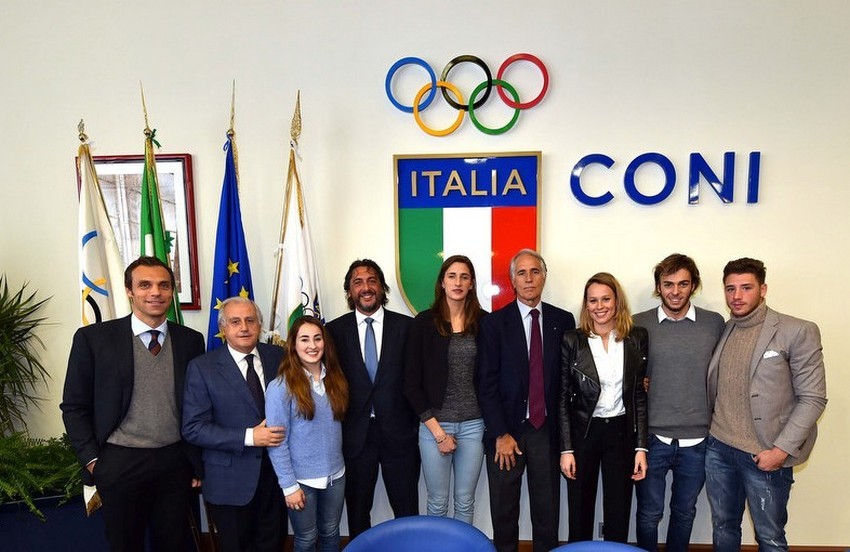 This morning, in the Board Room of the Italian Olympic Committee, The President of CONI, Giovanni Malagò, and the CEO of UnipolSai, Carlo Cimbri, presented the partnership that will bind CONI and UnipolSai until 2017.
Giovanni Malagò expressed satisfaction for this agreement on behalf of the Italian sport's world. "I am proud and honored by this union and I hope it will last forever. UnipolSai is a successful brand, a strong Italian reality that makes us endlessly proud showing sensitivity towards our world and highlighting its social importance. This agreement also has an important value in view of the forthcoming international challenges and the candidacy of Rome for 2024 Olympics".
Carlo Cimbri further expanded the motivations expressed by Malagò, illustrating the reasons that allowed the partnership with CONI to become a reality. "For us, this agreement represents a further step in association with Italian sport, after the experiences with FIN and FIDAL. This relationship was born under a lucky star: we are the largest Italian company in the insurance industry and we like to support professional sport in its broadest meaning, as a symbol of sport accessible to everyone, an extraordinary vehicle of trust and rebirth for the whole country. UnipolSai will closely cooperate with the Olympic Committee to make the dream of Rome 2024 come true".
UnipolSai Young Italy Team, a team of young athletes, standard-bearers of Italian sport's excellence and values in the world, led by Federica Pellegrini, was also presented during the event. Those values are also shared and promoted by UnipolSai in its everyday activities for the safety of millions of Italians and in its commitment towards the community and the whole country. Designed and supported by UnipolSai Assicurazioni, the UnipolSai Young Italy Team project includes an agreement with the athletes for 2015 and 2016. In addition to the "godmother" and spearhead of Italian swimming team, Federica Pellegrini, that will act as a tutor to the young members of the team, the UnipolSai Young Italy Team includes: Vincenzo Abbagnale (Rowing), Eseosa Desalu (Track & Field), Carlotta Ferlito (Artistic Gymnastics), Andrea Fondelli (Water Polo), Gregorio Paltrinieri (Swimming), Alessia Trost (Track & Field).
Federica Pellegrini gave voice to the satisfaction of the Italian athletes who attended the presentation of the agreement. "I am grateful to UnipolSai for this initiative. I proudly put my experience and my desire to win at the service of the team in view of the Olympic Games of Rio in 2016".