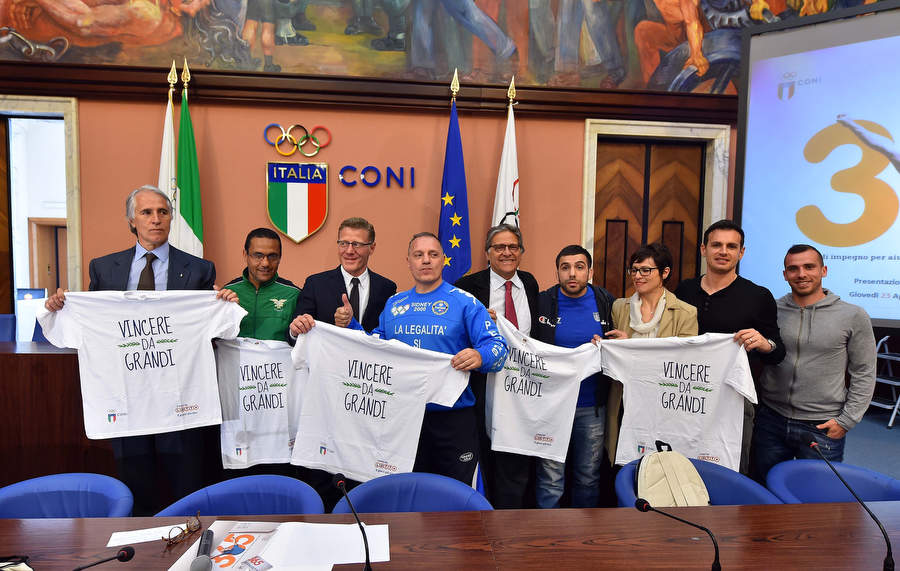 CONI and Gioco del Lotto presented in the Hall of Honour "Vincere da grandi" a sporting, cultural and social project that will support Italian families. Starting from May, twice a week for a period of six months, children between 5 and 14 years coming from families living in poor areas with a high risk of social exclusion will have the chance to try, learn and practise many sports for free. The project will be held in four Italian cities: in Rome (Foro Italico) with Carlo Molfetta, captain of the national Italian taekwondo team, winner of the Olympic gold medal in London 2012; in Naples (Scampia) with Giovanni Maddaloni, President and Master of A.S.D. Star Judo Club; in Palermo (Zen) with Rachid Berradi, Olympic athlete in Sydney 2000, one of the best Italian middle-distance runners and President of A.S.D. Atletica Berradi 091; and in Milan (Quarto Oggiaro).
The President of CONI Malagò stressed the importance of this initiative. "I am grateful to Lottomatica for the choice made and for giving support to our association with passion and conviction. With this initiative, we propose a model of virtuous cooperation between public and private parties that aims through sports to promote prevention and social development where those would be most useful. In my opinion, teaming up with private parties motivated by the same goals represents a winning formula to provide real contribution to the sports system and to the community. Therefore, I hope that initiatives like this one will be able to stimulate the construction of a real network of supporters, united by the desire to help the country grow and improve". The CEO of Lottomatica, Fabio Cairoli, summarized the terms of the project with great pride. "We want to thank CONI for this opportunity, because we share such important values as the respect for rules, legality and the will to believe in young people. This project demonstrates our attachment to the concept of social responsibility that allowed Lottomatica, through Gioco del Lotto, to distinguish itself over the years in Italy, linking its name to the most important cultural and social institutions of the country while paying close attention and allotting resources for the areas in which it operates and develops". The event was also attended by the CEO of Coni Servizi, Alberto Miglietta, the Federal Presidents Alfio Giomi (Athletics) and Mario Scarzella (Archery), the honorary member of the IOC Manuela Di Centa, the Olympic champion of judo Giuseppe Maddaloni and the footballer Benedetto Iraci.
The project "Vincere da grandi", which involves an investment of 300,000 euro, will offer kids a sporting context and educational excellence, thanks to federal technicians and Olympic champions who will follow
them closely during their journey. The participants, identified by sporting organizations involved in the project through the regional social welfare network consisting of municipalities, educational institutions and social services, will be divided by age and will attend athletics, karate, volleyball, basketball, swimming, football, tennis, badminton, sailing, judo, gymnastics, taekwondo and rugby courses for free (special courses will be also offered for children with disabilities). The children will have the chance to attend a two-week course during summer holidays in the same structures; they will also have the opportunity to attend a sporting event of national/international level that will take place in the region where they live. CONI and Lottomatica want to offer a great opportunity for knowledge, cultural and social growth for the whole community.
The sporting testimonials also wanted to express their unconditional commitment to the project: Giovanni Maddaloni spoke of "a major gift for those who love sports. We are acting in twodirections: one is linked to the competitive growth for the Olympic dream, the other is aimed to social inclusion throughout our world". Rachid Berradi stressed that "this initiative will introduce young people to sport, allowing them to become champions in life and on the field"; the Olympic athlete Carlo Molfetta exalted "Vincere da grandi" by saying that it "will open up disciplines such as taekwondo and many others by breaking down barriers and introducing young people to sport". A special praise came from the other Olympic gold medalist, the judoka Giuseppe Maddaloni, who wanted to testify his affinity to a project "that gives us the opportunity to invest in young people to believe in the future and in our future champions". The Councilor for Sports of the City of Palermo, Cesare Lapiana, brought greetings from the Mayor, Leoluca Orlando, expressing "satisfaction with this initiative, which will be supported by institutions through commitment and passion for the development of sport".