3rd Olympic Management course. Malagò: "A new model for Italy's sport of tomorrow"
Published: 12 October 2016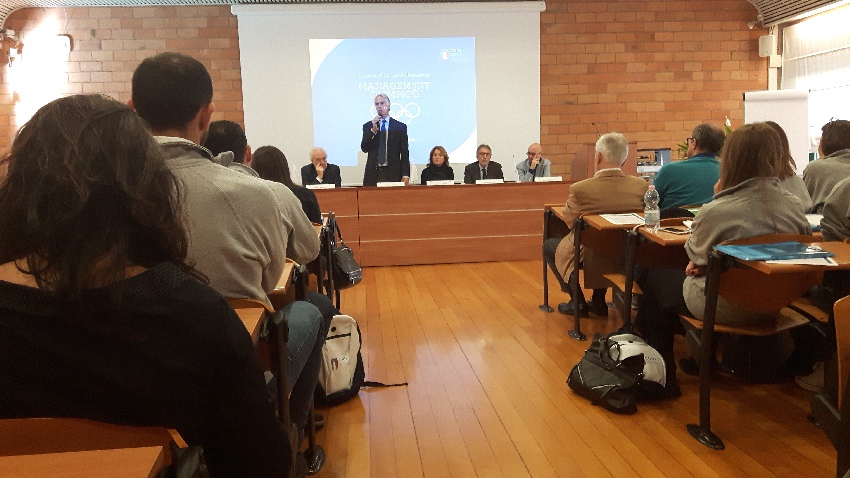 Today was the first day of school for the 27 students taking part in the third advanced specialisation course in Olympic Management. The course, organised by the CONI School of Sport at the Acqua Acetosa Olympic Training Centre, was opened by Giovanni Malagò, President of CONI, together with Alberto Miglietta, Managing Director of CONI Servizi.
The opening was hosted by Rossana Ciuffetti, Director of the School of Sport, and was attended by speakers and representatives from the Scientific Committee, chaired by Antonello Bernaschi who coordinates the educational project which is aimed at training future sports executives.
This year's course has kicked off with a larger number of female participants than in previous years, with 13 women taking part. Amongst the participants is rower Pierpaolo Frattini, who has competed in three Olympic games (Athens 2004, London 2012, Rio 2016) and eight world championships, winning one gold (pair event in 2011) and three silver medals (eights in 2005 and 2006, pairs in 2010).
The course, which aims to prepare young graduates for immediate entry into the workplace through the acquisition of expertise, interpersonal skills and teamwork, will cover 12 modules with compulsory attendance spanning a total of 360 hours of teaching. The students will sit an exam at the end of the course in March 2017 which, if they pass, will guarantee them at least 300 hours of paid internship.
Malagò opened the session by stressing the importance of the initiative: "We want a new model to drive Italy's sport of tomorrow in all areas. I had hoped to urge you today to support this training programme in view of the outcome of Rome's 2024 Olympic bid. But we all know what happened. Yesterday was a sad day for Italian sport. However, today we have launched a new initiative that will lead us in new directions. This morning, with the circulation of information regarding appropriations for developing sport in the suburbs, we resumed playing an active role so sport can have an impact in all circumstances".
"I believe you have made a good investment by taking part in this initiative" continued Malagò. "It makes more sense to follow this type of programme rather than one that does not provide any real opportunity."
Alberto Miglietta, Managing Director of CONI Servizi, congratulated the students on their choice and added: "To be able to make decisions, you must expand your knowledge. Before making a judgement, you need to understand what you're dealing with. I therefore urge you to be curious and never stop learning."
The start of the course was also attended by Marcello Marchioni and several representatives of the Course Scientific Committee: Alberto Acciari, Fabio Barchesi, Moris Gasparri and Valeria Panzironi. Classes will be led by CONI leaders, university professors and sporting professionals.