Mattarella embraces the world of sport: exciting ceremony at the CONI
FIRST TIME IN THE HISTORY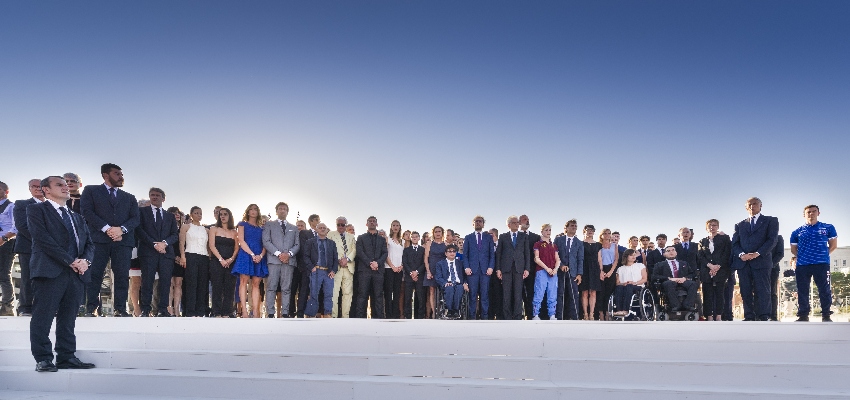 The President of the Italian Republic, Sergio Mattarella, today visited the CONI headquarters for a meeting with the world of sport in the fascinating and suggestive setting created in the area in front of the Stadio dei Marmi. This was a historical "first": no Head of State had in fact ever before visited the headquarters of the Italian National Olympic Committee.
Playing host was the President of the CONI, Giovanni Malagò who welcomes the Head of State together with the Minister of Sport, Luca Lotti, and the President of the Italian Paralympics Committee, Luca Pancalli.
Taking part in the event were the presidents of the National Sports and Paralympics Federations, of the Associated Sports Disciplines, of the Associazioni Benemerite (Praiseworthy Associations), of the Sports Promotion Bodies, of the Regional Committees, and numerous athletes of both the present and past.
Participants included Olympic athletes Elia Viviani (Cycling) and Niccolo Campriani (shooting) Diana Bacosi (Shooting), Fabrizio Donato (Athletichs), Matteo Castaldo (Rowing), Marta Pagnini (Ggymnastic), Luigi Busà (Karate), Gabriele Detti (Swimming), Francesca Piccinini (Volleyball), Riccardo De Luca (Pentathlon), Mirco Scarantino (Weightlifting), Margherita Granbassi (Fencing), Valentina Marchei (Ice Sports), Francesca Lollobrigida (Roller Sports), Filippo Volandri (Tennis), Claudia Mandia (Archery), Alessandro Fabian (Triathlon), Flavia Tartaglini (Sailing), Veronica Yoko Plebani (Canoe Kayak), Anika Niederwieser (Handball), Yuri Farneti (Squash), Alessia Mesiano (Boxing), Luca Marziani (Equestrian Sports), Giacomo Redondi (motorcycling), Alberino Pascale (Federation of Hunting and Sporting Weapons), Alessia Zecchini (Federation of Sport Fishing and Underwater), Gianluca Formicone (Bowling Federation), Rosario Maddaloni (Badminton), Letizia Ingrosso (Dance Sport), Erika Piancastelli (Basebal Softball), Renato Paratore (Golf), Chiara Colantoni (Table Tennis), Davide Spinosa (Taekwondo), Dalila Mirabella (Hockey), Thomas Degasperi (Ski and Wakeboarding Federation), Sara Gama (Football), Fabio Andolfi (Automobil Club), Giorgio Bracci (Rugby), Renato Molinari (Powerboat), Alex Righetti (Basket), Sofia Goggia (Winter Sports Federation), a group of athletes from the Associated Sports Disciplines, and representatives of Athletes and Coaches belonging to the National Council.
Other participants included Raffaello Leonardo (Rowing), Daniele Lupo (Volleyball), Clemente Russo (Boxing) and a delegation of Walk of Fame athletes: Lea Pericoli, Nino Benvenuti, Giacomo Agostini, Gianni Rivera, Dino Meneghin, Gabriella Dorio, Patrizio Oliva, Ezio Gamba, Mauro Numa, Carmine Abbagnale, Giuseppe Abbagnale, Giuseppe Di Capua, Alessandro Campagna, Josefa Idem, Novella Calligaris, Giorgio Lamberti, Jury Chechi, Stefano Baldini, Domenico Fioravanti, Maurizio Damilano, Armin Zoeggeler, Paola Pigni, Nicola Pietrangeli and Abdon Pamich and for the Paralympics world Alex Zanardi, Bebe Vio, Valerio Taras, Tiziano Capitani, Paul Eghaghe Osarobomwen Iyobo, Andrea Lanfri, Marco Ferrazza, Chiara Coltri, Simone Ianiro and Davide Bendotti. Giampiero Ventura, representing the Italian National Soccer Coaches, and Gianlorenzo Blengini, for the Italian national volleyball squad.