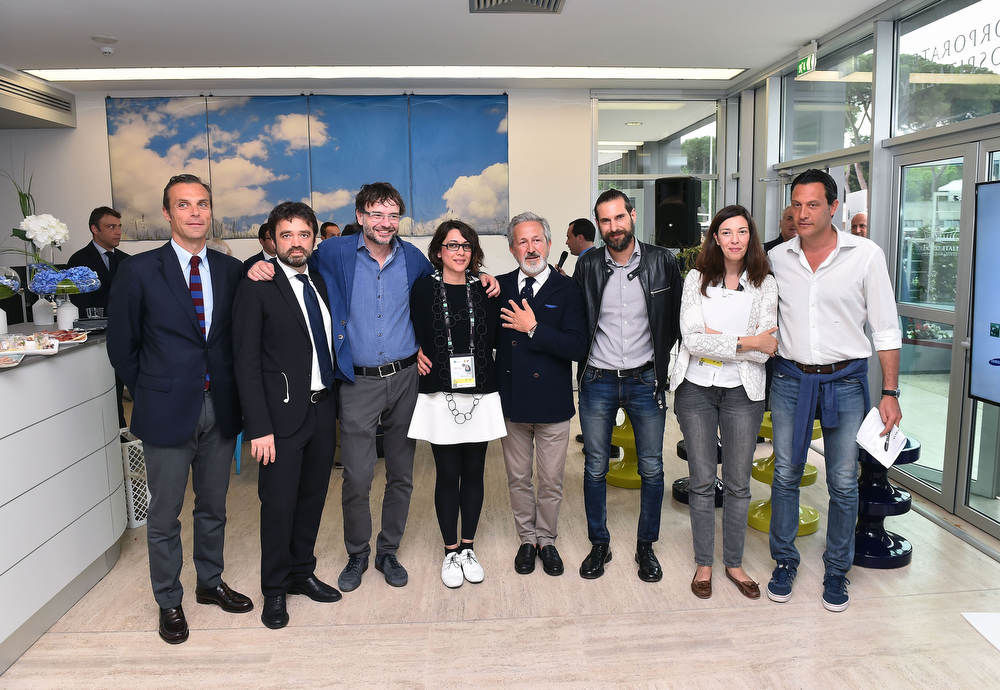 A meeting was held between Italy's examples of excellence to enhance the Made in Italy in Brazil. Where sport meets art, tradition and innovation. All this in in one place: Casa Italia, which, at the 2016 Rio Games, in the Costa Brava Club, will for the first time present itself as the result of a project that aims to promote the country not only through the highest competitive expression, but also through art and design. A project that flies high, based on the 'Horizontal' concept. A viral concept that will go beyond the physical boundaries of the location through the CIAOLA', an expression combining the Italian 'ciao' with the Portuguese 'olà', meaning hello and welcome, that merges the two realities.
Casa Italia will open an ideal horizon towards the world. The presentation was given today at the Corporate Hospitality of the Centrale del Tennis within the Foro Italico, in the presence of CONI's Deputy Secretary, Head of Olympic Preparation and Head of Mission in Rio, Carlo Mornati, Marketing Director, Diego Nepi, and the curator of the 'Horizontal' project, Beatrice Bertini.

Mornati explained the significance and importance of Casa Italia in cultural terms. "The Olympic Games wouldn't exist without art, because the IOC eliminated artistic competitions in the Olympics in 1948 but it established that there should always be an artistic program for every participating Country. In Casa Italia therefore there will be a sort of melting pot, the message of a united, beautiful Italy offering itself to the world with its own Olympic values and, for once, without indulging in self-pity".
Diego Nepi has amplified the concept, going into detail. "This is a project that stems from a new vision of the Renaissance. We conceived a project that is totally different with respect to the past, a path to communicate the greatness of our Country, not just for its past but above all for its vision of the future".
The project is articulated in the artistic sector by Beatrice Bertini and Benedetta Acciari, in the interior design sector, through the endeavours of Claudia Pignatale, while Marco Frascarolo and Roberto Ortolani have mastered the lighting and the landscaping aspects respectively. Francesco de Figueiredo instead has worked on the identity of Casa Italia, Roberto Sinastra on rendering and Diego Chiaverelli on the CIAOLA' concept (foto Mezzelani-GMT).
'Horizontal' considers art all that will take place in Casa Italia 2016, which will be inaugurated on August 3 in the presence of Prime Minister, Matteo Renzi. Without hierarchies: the sports, the works, the interior design, the kitchen and the reception, will contribute to make a visit to the Costa Brava a unique experience, thanks to its modern, unique and welcoming environment.