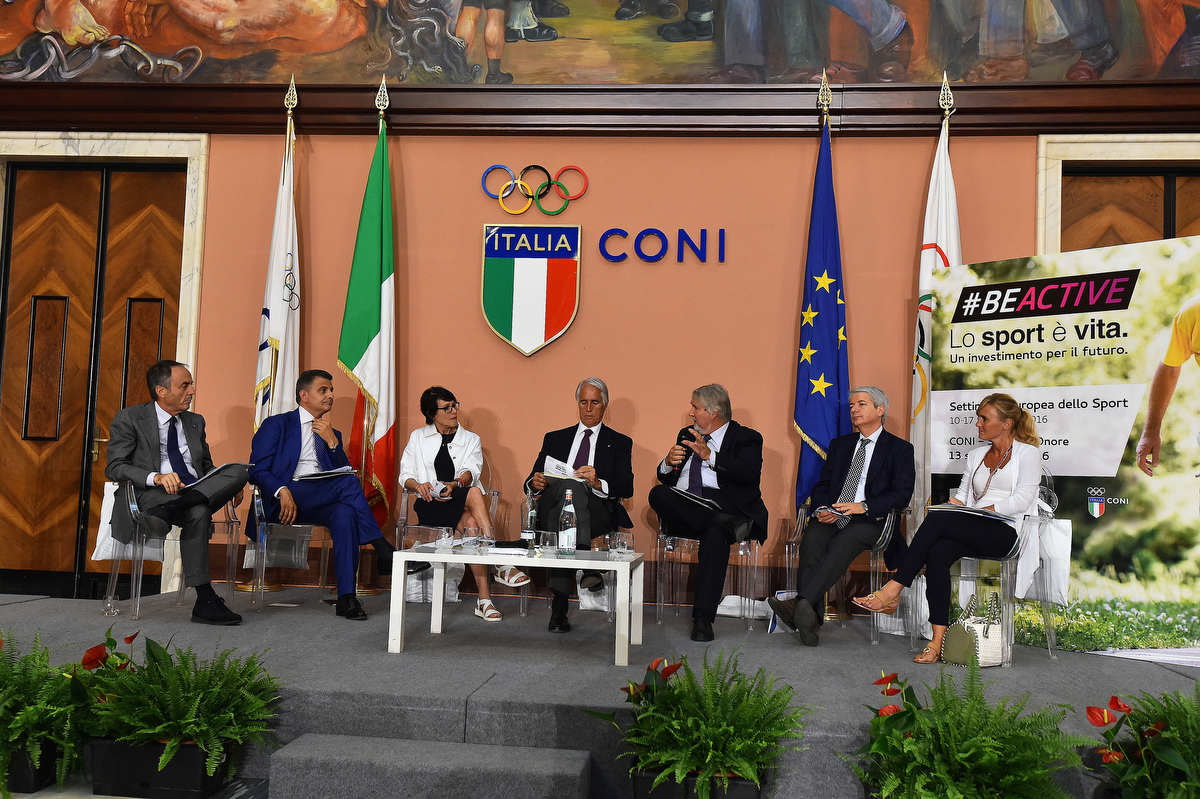 The "Sport is life" workshop, part of the European week of sport, was held today at CONI's Salone d'Onore. An opportunity for analysis and study to declare the importance of the projects developed by CONI, together with the Prime Minister's Office, the Ministry of Labour and other, various institutional bodies to convey the importance and significance of taking part in sporting activities, in its various aspects, to promote social development at every level.
The workshop was attended by the Undersecretary to the Prime Minister's Office, Claudio De Vincenti, the Minister of Labour and Social Policy, Giuliano Poletti, the Undersecretary of the Ministry of Health, Vito De Filippo, and the general coordinator of Rome 2024 and member of the technical-scientific Committee of Sports and Integration, Diana Bianchedi. During the afternoon the campaign "#Beactive" was presented, which was the backdrop to the reflections on "Sport and Integration" and "Sport, community and health".

The meeting was opened by the President of CONI, Giovanni Malagò. "There are many initiatives carried out with enthusiasm and passion, in which we strongly believe: Sport and Suburbs, to let our world reach the most disadvantaged areas and allow each and every area to have adequate spaces to encourage physical activity, Coni Ragazzi (teenagers), to introduce the playful and educational significance of our world, La Nuova Stagione (The New Season), strategically functional to a double career, because the dream is that one day a former athlete becomes President of CONI, up to Sport and Integration, which encapsulates the fundamental role of inclusion and aggregation against all forms of discrimination and if we manage to get the "ius soli" (birthright citizenship) passed you will see those foreign athletes become stars one day. They have such determination that no one can imagine. Finally, "Sport nelle Carceri" (Sport in Prisons): yesterday I went to the Frosinone detention facility and I had an incredible day seeing how competitive activity can be seen as a chance for redemption. All these projects are functional to the cultural growth of the country, which is also and above all social growth, a duty for new generations".

Undersecretary of State at the Prime Minister's Office, Claudio De Vincenti, expanded on the concept. "I want to quote Nelson Mandela: sport has the power to change the world. It has the power to unite people in a way that nothing else is able to do. It speaks to youth in a language they understand. Sport can create hope where once there was only despair. This makes us understand many things which we believe in as a country, as the importance of educational, cultural and social aspects, thanks to sport, are all enhanced and translated in a wave of benefits for the community. For this, Rome 2024 is a great opportunity, an opportunity for economic development right across the nation through IOC funds. Moreover, the Games are also important for the promotion of sporting activity".

The Minister of Labour and Social Policy, Giuliano Poletti, stressed the importance of the Sport and Integration project. "Sport is being together, that sense of community, sport is feeling the desire to win, but sport is also work and opportunities in our own life. We fall in love with sport and from sport we learn so much. Because learning doesn't just take place at school, it also takes place on a field and in a gym. This is the right track for the future, because this week can last all year long, set its roots and become a way of life". Tatiana Esposito, General Manager of immigration and integration policies, went into detail regarding the CONI-MLPS initiative, recalling "that sport can spread a sense of belonging, meaning dialogue and participation".

Manuela di Centa, IOC honorary member also spoke during the workshop. "Sport and life encapsulate many concepts. We all are athletes and if we apply it to everyday life we must remember that there are many sacrifices behind. Our goal is to recognise it as part of life. Because we win every day. And a great athlete must have the tools to win off the field too". Antonio Naddeo, Head of the Department for Regional Affairs, Autonomy and Sport said that "this week we aim to spread the concept of sport in its purest form. As an investment for the future in the fields of education and health for the benefits that it brings". Nerio Alessandri, President of the Wellness Foundation and Founder of Wellness Valley, drew the meeting to a close. "Carrying out physical activity means carrying out prevention. It is important to programme specific plans within our places of work to reduce the risks of sedentarily lifestyles and cut down on absences due to health reasons, at the same time ensuring longevity. Physical exercise is a very powerful medicine, maybe it would be good to transform the Olympic event in something healthy for everyone to combat chronic diseases. In this sense Rome 2024 would be an important cultural boost for new generations".
Also taking part were the Deputy Director of Rai Fiction, Luca Milano, EWOS representatives, Fiammetta Miele, Amartea Association, Corrado Genova, Sport Community and Mirko Bottamedi and the MACH Foundation. Many athletes were also present, including silver medal winner in Judo at Rio 2016, Odette Giuffrida, and a large delegation from the Army, as well as boxers Manuel Cappai and Irma Testa of Fiamme Oro and Olympic champion Carlo Molfetta.