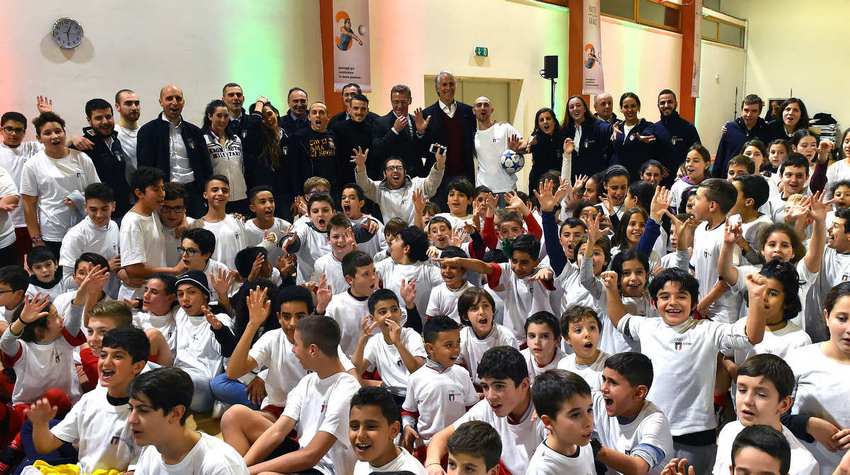 Today, President of CONI Giovanni Malagò and President and Managing Director of Lottomatica Holding Fabio Cairoli took part in the Vincere da Grandi Open Day in the Corviale district of Rome. This sporting, cultural and social project aims to raise awareness, and give young people from disadvantaged areas who are at risk of marginalisation the chance to discover and take part in a range of sporting disciplines.
The initiative, which is dedicated to profitable and synergistic action between the private and public sectors, was introduced in 2015 thanks to CONI's dedication and major funding from Lottomatica through the Il Gioco del Lotto brand. Today around 800 young people are involved across four cities: Rome (Parco del Foro Italico), Milan (Quarto Oggiaro), Naples (Scampia) and Palermo (former Zen).
The next two stages will involve Reggio Calabria (Rosarno) and Corviale in Rome, which, thanks to SSD Calciosociale, hosted an afternoon full of celebration and fun for a crowd of children in the Valentina Venanzi sports centre. Representatives of the companies participating in the project were present along with two special guests: Elisa Blanchi, World Champion rhythmic gymnast who won two Olympic medals with the Italian National team (silver in Athens in 2004 and bronze in London in 2012) and Alessandro Florenzi, footballer for AS Roma and the national team (photo credit: Mezzelani-GMT).
President Malagò opened with a welcome which highlighted the importance of Vincere da Grandi. "We have always believed in this project and I want to thank Lottomatica and everyone who has made it possible. Sport is enhanced in its most noble sense and experienced as an opportunity to grow, as training can free young people from their everyday problems. The initiative is a source of great pride and shows us that investing in the community is a winning idea. Thank you to all of you." The forward-thinking attention paid to the Corviale project by the CONI Regional Committee led by Riccardo Viola and Rome's representative Cristina Chiuso was also noted.
Fabio Cairoli emphasised the initiative's content, according to Lottomatica's point of view. "Today you are winners, you are ambition transformed into reality. This is a victory for us, for our company and for Gioco del Lotto, the brand associated with the initiative. Vincere da Grandi confirms our belief in the importance of collaboration between the public and private sectors in order to successfully implement projects which benefit the community. This is an extraordinary growth lever, which ensures social inclusion".
Leaders of various local projects then took the floor to speak about their own areas of expertise: President of SSD Calciosociale Massimo Vallati, who thanked CONI and Lottomatica and emphasised the importance of the project for social betterment of an entire district, Giovanni Maddaloni President of and teacher at the A.S.D. Star Judo Club in Scampia, Napoles, Rachid Berradi from ASD Atletica Berradi 091 in Palermo, and Sergio Frazzei from ASD Futura Milano Quarto Oggiaro, all highlighted the stages taken in the journey.
The closing talks from Elisa Blanchi and Alessandro Florenzi were met with applause from the children. Blanchi focused on the meaning of sport. "What was symbolic in my life, and plotted it indelibly, is the enthusiasm to pursue your goals while aspiring to the value of our movement". Florenzi said he was "proud to be part of this family, because I know Corviale and the work you are doing. You applauded me, but you should applaud your mums and dads who work to give you everything they can". The day came to an end with camera flashes, applause and dedications, and the future laid out before the participants, inspired with dreams of becoming champions, star players and winning gold medals.