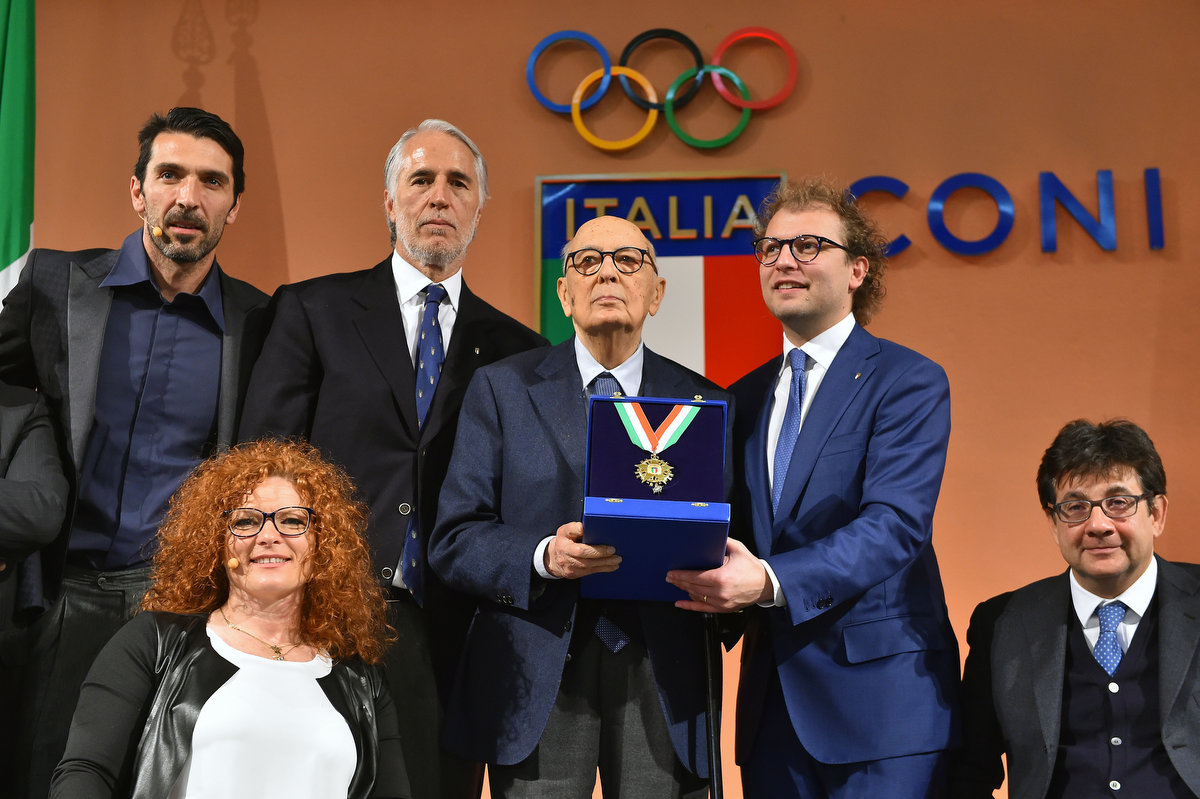 The Collari d'Oro awards ceremony, the highest honour in Italian sport, was held today at the CONI Salone d'Onore. Olympic and Paralympic champions from Rio 2016 were honoured along with other sportspeople, personalities and societies that have shone over the course of their career or history. The Palme d'Oro awards were also presented to coaches of Olympic and Paralympic champions for their technical merit.
The prize-giving ceremony, which took place at the CONI Salone d'Onore, was conducted by the Minister of Sport Luca Lotti and was attended by the President of CONI Giovanni Malagò and President of the Italian Paralympic Committee Luca Pancalli. The ceremony, which was also attended by Secretary General Roberto Fabbricini, Deputy Secretary General Carlo Mornati, President of CONI Servizi Franco Chimenti and Managing Director of CONI Servizi Alberto Miglietta, featured two special guests: Gianluigi Buffon and Francesca Porcellato.
The day began with a welcome from President Malagò, who stressed the importance and significance of the day. "This moment represents our excellence. It has been a particularly significant year in which Italy has performed very well despite our issues with the Olympic programme. I believe that we left Rio with our heads held high, not just in terms of results but also for our style and behaviour. We are the only Olympic Committee to have this model. Everyone is aware of our uniqueness, thanks to my predecessor. We now have a Minister of Sport, Luca Lotti, and we are happy because in recent years he has shared this journey with me. This is the best guarantee for accomplishing and understanding the demands of the sports movement. We are still sore from our Olympic bid. Even those who were opposed to it: we are pleased that we came out of it with style. The future lies in sport".
These notions were also developed by Luca Lotti, in his first formal engagement as Minister of Sports. "I am honoured to take part in this event. We are not starting from scratch but there is still a lot to do. We have done a great deal and I intend to continue in the role from what the previous administration did, the results of which are clear to all. I'm talking about the 100 million to Sports and Suburbs, the increased number of hours devoted to sport in schools, recognition of the autonomy of the Italian Paralympic Committee. There is no lack of support for major international events. Today, however, I am happy because these awards are not like any other. Athletes are a source of inspiration to young people, but these awards go beyond even that. Our champions are the tip of the iceberg: they are supported by a world which works hard for them and enables us to experience the excitement that we celebrated in Rio. I'm borrowing a line from Alfredo Martini who has obviously received this award. In his 93 years of life he experienced sport at all levels. He climbed from the bottom to the top. He is an inspiration to all of us. Sport will always pay because those who take part in sport form good habits, and good habits are never lost. I am talking about values such as honesty, loyalty and respect. It is exciting to think that, thanks to the Sport and Suburbs funding, somewhere a child is playing on one of those fields and in 20 years they may be here".
The ceremony, which was broadcast live on RAI, opened with an award presented to Martina Caironi. Olympic and Paralympic champions alternately received awards on the stage and the ceremony was interspersed with jokes, stories, film clips, emotions and anecdotes. The 90-minute show was attended by members of the IOC Mario Pescante, Franco Carraro, Ivo Ferriani and Manuela Di Centa and several members of the Committee and National Council.
President Emeritus Giorgio Napolitano was among those being honoured, along with Francesco Ricci Bitti, and his speech brought the ceremony to an emotional close.
"I don't believe that I did much to deserve this recognition, I can use it as encouragement to take up sport myself if it's not too late. I am paying the consequences of not playing sport. I did so vicariously through my children but I've yet to choose my specialism. I extend my deepest gratitude to CONI for the most wonderful days at the Quirinale where I received Italian athletes leaving for the Olympics and World Championships, and met them again on their return after competing valiantly and often victoriously. We have had many athletes in uniform, both men and women. Sports and the armed forces are among the most respected faces of our nation. Paralympic athletes should be particularly admired for their moral courage and the life lesson that they teach us. We must now look ahead and leave painful controversy behind us. Italy cannot shy away from the challenges and tests that exist on an international level, we must compete in technology, economy, culture, art and sport. We cannot fall behind in any of these fields. Italy has a strong sense of dignity, and we must continually reaffirm it to better ourselves and our circumstance, without being paralysed by fear of misfortune or divided by a willingness to rebel which still exists in Italy – sport can protect us from this". He closed with an anecdote related to Buffon and the triumph of 2006: "I had just been elected President of the Republic and I was in Berlin: I have to thank Buffon and the National Team, which saved me from a serious threat, that Italian misfortune may cast a shadow of bad luck over me. I managed to escape this threat, not due to my own merits. I hope I have not brought bad luck to Italian sport".
Malagò's closing speech was met with applause. "President Napolitano has moved me. He said something beautiful: that sport is perhaps the only area in which we are not divided. It is all thanks to you". (Photo credit: Mezzelani-GMT).
Absent winners included Vincenzo Nibali (cycling, Giro d'Italia 2016), Gregorio Paltrinieri (swimming, Olympic gold 1500 freestyle), Fabio Basile (judo, Olympic gold cat. 66 kg), Andrea Pio Scarpa (WBC world champion silver, super lightweight), Luigi Gigi Riva, judo coach Kiyoshi Murakami and head swimming coach Stefano Morini.
The full list is as follows:
COLLARI D'ORO FOR SPORTING MERIT
Marco Tamberi (athletics, indoor high jump world champion), Elia Viviani (cycing, Olympic gold, omnium), Daniele Garozzo (fencing, Olympic gold in individual foil), Niccolò Campriani (shooting, Olympic gold 10 m rifle and three position rifle), Diana Bacosi (skeet shooting, Olympic gold), Gabriele Rossetti (skeet shooting, Olympic gold), Giovanni De Carolis (WBA world champion, super-middleweight), Kiara Fontanesi (2015 Motocross world champion – absent from the last ceremony).
Martina Caironi (track and field, Paralympic gold 100 m T42), Assunta Legnante (track and field, Paralympic gold shot put F12), Alex Zanardi (cycling, Paralympic gold chronometer handbike H5 and Mixed Team Relay), Vittorio Podestà (cycling, Paralympic gold chronometer handbike H3 and Mixed Team Relay), Luca Mazzone (cycling, Paralympic gold chronometer handbike H2 and Mixed Team Relay), Paolo Cecchetto (cycling, Paralympic gold handbike individual road race H3), Federico Morlacchi (swimming, Paralympic gold 200 m IM – SM9), Francesco Bocciardo (swimming, Paralympic gold 400 m freestyle – S6), Beatrice Maria Vio (fencing, Paralympic gold in individual foil cat. B).
SPORTS SOCIETIES
Società Ginnastica Pavese ASD [Associazione Sportiva Dilettantistica - Amateur Sports Association], Verbano Yacht Club ASD, Vela Nuoto Ancona ASD, Circolo Canottieri Pro Monopoli ASD, Tennis Club Napoli ASD, Gruppo Sportivo Forestale, Torino Football Club Spa
PERSONALITIES
Giorgio Napolitano, Francesco Ricci Bitti
PALMA D'ORO FOR COACHING MERIT
Davide Cassani, Marco Villa and Edoardo Salvoldi (cycling), Pierangelo Toniolo (judo), Cesare Butini (swimming), Fabio Maria Galli (fencing), Celso Giardini and Bruno Rossetti (skeet shooting), Nadia Checchini and Alessandro Kuris (Paralympic track and field), Fabrizio Di Somma (Paralympic cycling), Massimiliano Tosin and Luca Puce (Paralympic swimming), Federica Berton (Paralympic fencing)
CONI TROPHY
CONI Regional Committee - Veneto