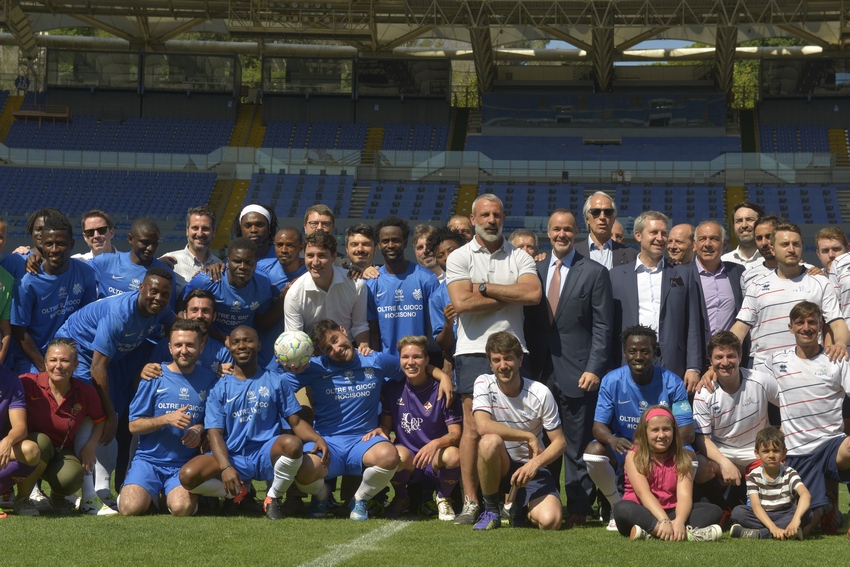 A kick against intolerance and racism, with football as a means of integration. The match staged in the Olympic Stadium in Rome was much more than a friendly mixed team game between Fiorentina Women's Football Club and Liberi Nantes, a squad of young migrants and refugees. Rather it was a fine example of fraternity and friendship under the banner of sport.
The merit goes to the "Open goal" (photo Colantoni - GMT) event promoted by the namesake non-profit association, and of an exceptional 'godfather' like the Canadian Prime Minister, Justin Trudeau, visiting Italy for the G7 meeting in Taormina and this morning sitting on the bench to cheer his team on with shouts of "bravo! Andiamo! Forza ragazzi! All pronounced in good Italian. On the other bench was the President of the CONI, Giovanni Malagò, playing host to an event that saw the participation of the Undersecretary for Foreign Affairs and International Cooperation, Benedetto Della Vedova, the Undersecretary of Justice, Gennaro Migliore, the President of AS Roma, James Pallotta, accompanied by the director general of the Roma Football Club, Mauro Baldissoni, the President of Bologna and Montreal Impact, Joey Saputo, the managing director of the Bologna Club, Claudio Fenucci and the diplomatic delegations of Italy and Canada. Also taking part were representatives of Open Goal, founded by Matt Browne, Luciano Nobili, Seidu Soumalia and Marco Cappa, and of the other partners in the initiative: the Canadian Embassy in Italy and the Sant'Egidio Community.
"Here we find all the ingredients of what is called politically correct - stressed Malagó -: youngsters who miraculously reached our country, integrated, the universe of women in football who in our country find it harder to make the grade than in other countries, these Associations that do very well, a Canadian Premier who is a boy and the best trained prime minister in the world in terms of sports activities, the Olympic values of this stadium. The truth is that on such delicate issues, sport is the only thing that brings everyone together. We've seen 16-year-old kids play with 50-year-old adults, women, players with different skin colours and religions, and they were all together on the same field. It only happens in sport".