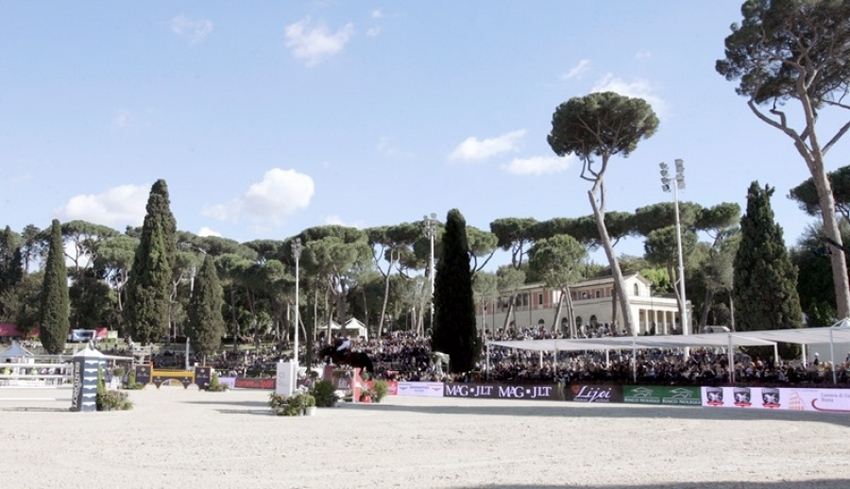 For 2017 and for the following three years, CONI Servizi will organise Rome's Official International Horse Show together with FISE – Italian Federation of Equestrian Sports– Master Fratelli d'Inzeo.
Rome's historic event, which each year attracts the elite of world show-jumping to Piazza di Siena (from Wednesday 24 to Sunday 28 May, the first show took place in 1926), joins the list of big events planned by CONI Servizi as a joint venture with FSN – National Sports Federation.
"Piazza di Siena represents excellence in competition, a date with history, our country's cultural heritage,"- remarks CONI President Giovanni Malagò."This agreement represents an important opportunity to make a qualitative leap and improve this show that is as unique as the prestigious location that hosts it. From this year onwards, we will work side by side with FISE on the organisation of an event which needs to meet the high standards set worldwide and is dedicated to the memory of Raimondo and Piero d'Inzeo, heroes of show-jumping, who had the most long-standing careers among Italian Olympic champions. Since 2003, Piazza di Siena has been included in the Division 1 of the Nations Cup circuit, one of the eight most important official international show-jumping contests: the best of the best of the equestrian world, but we want to invest in a quality project that allows this gem to regain, in full respect of an extremely important location, that influential position in terms of tradition and lifestyle that characterised it in the golden years of Italian show-jumping. This show is a history within history that is opening up more and more to the world thanks to new technologies."
FISE's President Marco di Paola said: "I am proud of CONI's willingness to work with us and I really have to thank President Malagò. This agreement is an important occasion for our federation and a further acknowledgement of this show's amazing value. Joint efforts will definitely lead to excellent results. The need to bring Piazza di Siena's horse show closer to the audience and to the city is a fundamental goal, as is aligning it with the highest-quality standards required by Fei Nations Cup's Division 1. It is necessary to guarantee the maximum well-being and sports performances of horses and riders, the great champions. Piazza di Siena is in the heart of top riders. The first participation request confirmed this once again: Rio 2016 Olympic Champion Nick Skelton plans on bringing Big Star to Rome, his incredible companion in his Olympic adventure."
The first meeting of the Technical Management Committee (CTG) took place today at the Foro Italico. The decision-making body is led by Marco di Paola. It includes: Cesare Croce (Past President FISE), Carlo Mornati (CONI Vice Secretary), Alberto Miglietta (Chief Executive Officer) e Diego Nepi (Director of Marketing and Development) for CONI Servizi. Simone Perillo, FISE General Secretary, is in charge of the Secretariat of the Technical Management Committee.