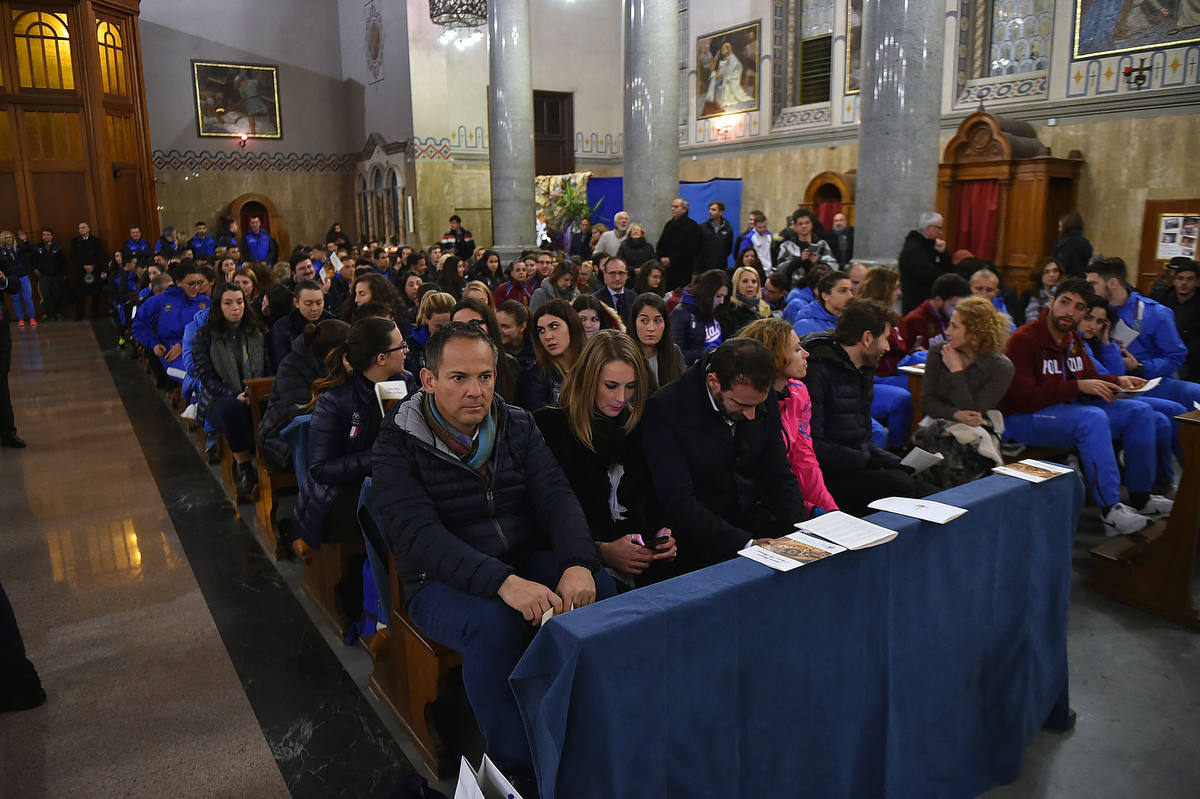 The 2017 Holy Mass for Athletes was celebrated today at the Cathedral of the Holy Cross. The Eucharistic celebration was led by Vicar General of Rome, Monsignor Angelo De Donatis. In attendance were the President of CONI, Giovanni Malagò, the General Secretary, Roberto Fabbricini, the Vice-General Secretary, Carlo Mornati, the Chief Executive Officer of Coni Servizi, Alberto Miglietta, numerous members of the National Commission and the National Council, and a significant delegation of athletes from the Olympic club and the Paralympic movement.
Monsignor De Donatis' sermon focused on the meaning of sport in religious terms. "Let's God's word light up our heart. The Lord's intervention overcomes unsurmountable difficulties, He wants men to be free. Preparation is a matter of conversion, which translates into the desire to be free of sin. When we are cleansed inside we can establish real relationships, situations change if people's heart changes. This is a time for hope. It offers the amazing things made by God to free us, to offer us salvation. Tests prepare us to a greater joy. We renew our hope, let's not interfere with God's plan, he wants us free from selfishness, violence and unedifying passions. Sport is at the service of all these gifts that God has bestowed upon you to live with love and in harmony. What you do, you do to give glory to God, to return to Him the gifts he has given you."
President Malagò thanked the ecclesiastic authorities, among whom were Monsignor Melchor Sanchez, Don Gionatan De Marco, the parish priest, Andrea Meschi, the Cathedral of the Holy Cross and the athletes. "This church was the home of the athletes taking part in the Rome Olympics in 1960. It was a ceremony as simple and as profound as our values. A Very Merry Christmas, I offer you these wishes also from Arianna Fontana, who is the symbol of all the good things we always want to express."
Prayers were read by Mara Santangelo, Carlo Molfetta, Alice Parisi (Softball), Alessia Maurelli (Gymnastics), Ariola Dedaj and Emanuele Di Marino (Paralympic Sport). Also among the present were the Italian standard bearer at the PyeongChang Olympics in 2018, Arianna Fontana (Short Track), Elisa Di Francisca (Fencing), Giovanni Pellielo (Shooting), Odette Giuffrida (Judo), Giuseppe VIcino and Matteo Lodo (Rowing), Alessia Mesiano, Irma Testa, Monica Floridia, Assunta Canfora, Irma Testa (Boxing), Anna Basta, Martina Centofanti, Agnese Duranti, Martina Santandrea and Beatrice Tornatore, Ruggero Tita, Caterina Banti (Sailing), Veronica Comar, Fabrizia Marrone, Alice Nicolini, Ilaria Cacciamani, Lara Cecchetti, Ambra Collina, Mariel Bertossi, Giulia Longhi, Elisa Cecchetti, Greta Cecchetti, Marta Gasparotto, Beatrice Ricchi, Laura Vigna, Priscilla Brandi (Softball), Tatiana Guderzo and Simona Frapporti (Cycling), Alessio Foconi (Fencing), Carlo Tacchini (Canoeing), Antonella Palmisano (Athletics), Daniele Resca (Shooting), Marco Galiazzo, David Pasqualucci (Archery), Francesca Lollobrigida, Valentina Marchei, Nicole Della Monica, Matteo Guarise, Matteo Rizzo (Ice Sports).
Mass was accompanied by the philharmonic orchestra Città di Roma, the choir "Le mille e una nota", conducted by the Maestro Silvia Scicolone and directed by Lorenzo Porzio, with the participation of the Rome Convitto Nazionale "Vittorio Emanuele II" orchestra and choir.