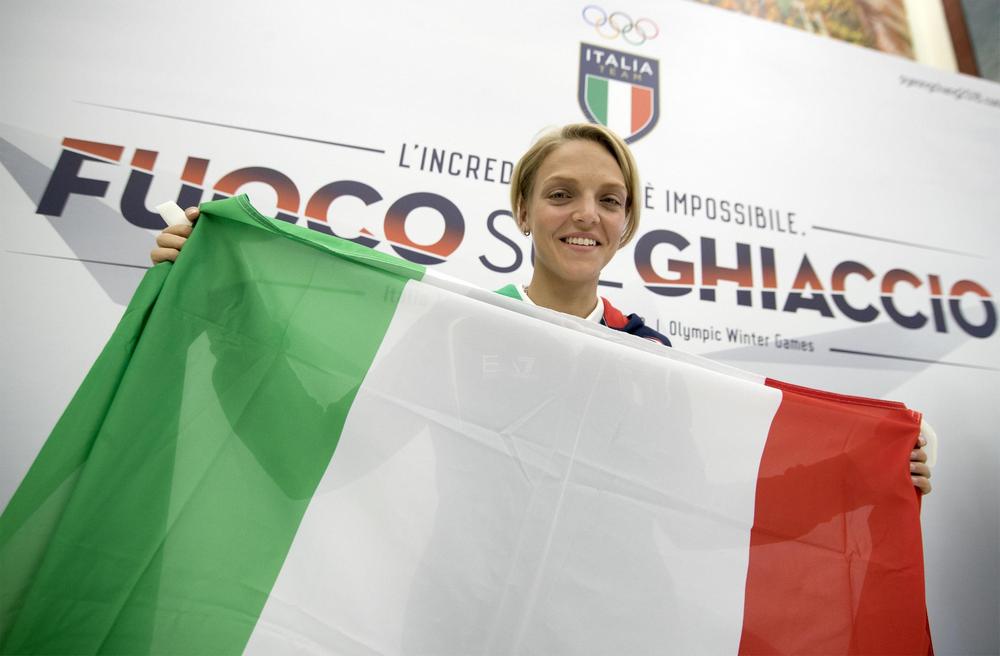 The composition of the Italian Team to the PyeongChang 2018 Winter Olympic Games was officially announced today with the registration in Korea at the DRM (Delegation Registration Meeting). There are 121 athletes registered, together with two reserves (one in Italy in the Biathlon and one in Korea in the Bob).
Of the 121 National Team members, 48 are women with a percentage of close to 40% (39,66). Overall 89 (plus two reserves) are the athletes of FISI (Federazione Italiana Sports Invernali [Italian Winter Sports Federation]) and 32 of FISG(Federazione Italiana Sport del Ghiaccio [Italian Ice Sports Federation]).
The oldest member of the delegation is the snowboarder Roland Fischnaller (37 years-old last September), while the absolute youngest is the ski jumper, Lara Malsiner, born on 14 April 2000, who becomes the first "millennial" in national team history to participate in the Olympic Games for Italy. In fact, she turns 18 in April.
Here is the list of those registered with their relative Federations:
Italian Winter Sports Federation (FISI)
BIATHLON (10) +1 reserve

Men (5): Thomas Bormolini, Thierry Chenal, Lukas Hofer, Giuseppe Montello, Dominik Windisch.
Women (5+1 riserve): Nicole Gontier, Alexia Runggaldier, Federica Sanfilippo, Lisa Vittozzi, Dorothea Wierer. Karin Oberhofer (reserve in Italiy).
BOBSLEIGH (4) +1 reserve
Men (4+1 riserve): Simone Bertazzo, Lorenzo Bilotti, Francesco Costa (rieserve in Corea), Simone Fontana, Mattia Variola.
NORDIC COMBINED (4)
Men: Raffaele Buzzi, Aaron Kostner, Alessandro Pittin, Lukas Runggaldier.
FREESTYLE SKIING (4)
Men (2): Siegmar Klotz, Stefan Thanei.
Women (2): Lucrezia Fantelli, Debora Pixner.
SKI JUMPING (8)
Men (4): Davide Bresadola, Federico Cecon, Sebastian Colloredo, Alex Insam.
Women (4): Evelyn Insam, Lara Malsiner, Manuela Malsiner, Elena Runggaldier.
ALPINE SKIING (20)
Men (11): Emanuele Buzzi, Luca De Aliprandini, Florian Eisath, Peter Fill, Stefano Gross, Christof Innerhofer, Matteo Marsaglia, Manfred Moelgg, Dominik Paris, Riccardo Tonetti, Alex Vinatzer.
Women (9): Marta Bassino, Federica Brignone, Chiara Costazza, Irene Curtoni, Nicol Delago, Nadia Fanchini, Sofia Goggia, Manuela Moelgg, Johanna Schnarf.
CROSS-COUNTRY SKIING (15)
Men (8): Mirco Bertolina, Francesco De Fabiani, Dietmar Noeckler, Federico Pellegrino, Maicol Rastelli, Sergio Rigoni, Giandomenico Salvadori, Stefan Zelger.
Women (7): Elisa Brocard, Anna Comarella, Ilaria Debertolis, Greta Laurent, Sara Pellegrini, Lucia Scardoni, Gaia Vuerich.
SKELETON (1)
Men (1): Joseph Luke Cecchini.
LUGE (9)
Men (7): Dominik Fischnaller, Kevin Fischnaller, Fabian Malleier, Ivan Nagler, Patrick Rastner, Emanuel Rieder, Ludwig Rieder.
Women (2): Sandra Robatscher, Andrea Voetter.
SNOWBOARD (14)
Men (9): Edwin Coratti, Mirko Felicetti, Roland Fischnaller, Michele Godino, Alberto Maffei, Aaron March, Emanuel Perathoner, Lorenzo Sommariva, Omar Visintin.
Women (5): Sofia Belingheri, Raffaella Brutto, Francesca Gallina, Michela Moioli, Nadya Ochner.
Italian Ice Sports Federation (FISG)
CURLING (5)
Men (5): Daniele Ferrazza, Simone Gonin, Amos Mosaner, Andrea Pilzer, Joel Thierry Retornaz.
FIGURE SKATING (11)
Men (5): Marco Fabbri, Matteo Guarise, Ondrej Hotarek, Luca Lanotte, Matteo Rizzo.
Women (6): Anna Cappellini, Nicole Della Monica, Charlene Guignard, Carolina Kostner, Valentina Marchei, Giada Russo.
SPEED SKATING (9)
Men (6): Riccardo Bugari, Davide Ghiotto, Andrea Giovannini, Michele Malfatti, Mirko Giacomo Nenzi, Nicola Tumolero.
Women (3): Francesca Bettrone, Yvonne Daldossi, Francesca Lollobrigida.
SHORT TRACK SPEED SKATING (7)
Men (2): Yuri Confortola, Tommaso Dotti.
Women (5): Arianna Fontana, Cecilia Maffei, Cynthia Mascitto, Lucia Peretti, Martina Valcepina.