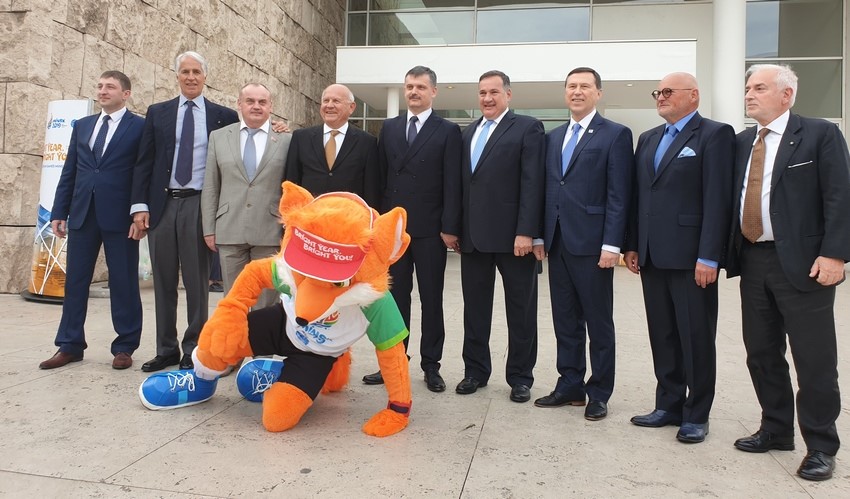 The path of the torch leading to Minsk 2019 starts from Rome. The evocative background of the Ara Pacis temple hosted the lighting ceremony of the symbol of the second edition of the European Games that will start in the Belarusian capital on 21 June.
The President of CONI (Italian National Olympic Committee) Giovanni Malagò was in attendance, together with the Secretary General Carlo Mornati, the President of the European Olympic Committees Janez Kocijancic, the EOC Secretary General Raffaele Pagnozzi, the Coordination Commission chairman Spyros Capralos, representatives of the Belarusian Government, the Belarusian Minister of Sport and Tourism Siarhei Kavalchuk, the Secretary General of the Belarusian Olympic Committee George Katulin, Artiom Tsuran, Deputy Chairman of the Executive Committee of the City of Minsk, and Ivan Markevich, Deputy Chairman of the Minsk Oblast Executive Committee.

"I am very honored to be here, Rome is the home of the European Olympic Committees, a fantastic association - emphasized Malagò -. Belarus has strong traditions in different disciplines and I have personally breathed in the wonderful atmosphere of your national Olympic committee. Italy wants to be protagonist in Minsk, we will have 188 athletes and 103 technicians, and we will be participating in all fifteen disciplines also because some of these will qualify for the Tokyo 2020 Games".

"In Minsk we will try to demonstrate the idea of sport, fraternity, peace and Europe - said Kocijancic - Considering the athletes, technicians and delegations this event will involve thousands of people, and it will be a fantastic sporting event in a beautiful country". The Olympic torch has therefore passed into the hands of three Belarusian Olympic champions: Alena Bialova (fencing), Uladzislau Hancharou (gymnastics), and Yuliya Nestsiarenka (athletics) before being entrusted to bikers who will cross Europe bearing the symbol of the Games.