Ten years of steady, gradual growth in sports results, in spite of increased international competition, declining national demographics and a reduction in public funding. This is what emerges from "The positioning of Italian sport at Olympic level", a 67-page report into the evolution of results from 2013 to 2022, presented this morning at CONI's Salone d'Onore by President Giovanni Malagò and Secretary General Carlo Mornati to the press and the National Sports Federations.
"For a long time Carlo Mornati, with the Olympic preparation team, felt it was his duty to inform you about what has happened over the last ten years: these are numbers of which we are very proud" stressed Malagò. "This is an important 'MRI scan': we want to show everything that has been done and that needs to be done in the coming years, regardless of roles. Looking ahead to 2050, if large-scale, precisely targeted public policies do not materialise, even an optimist such as myself would argue that it will be impossible to continue these achievements over the coming decades" added the CONI President.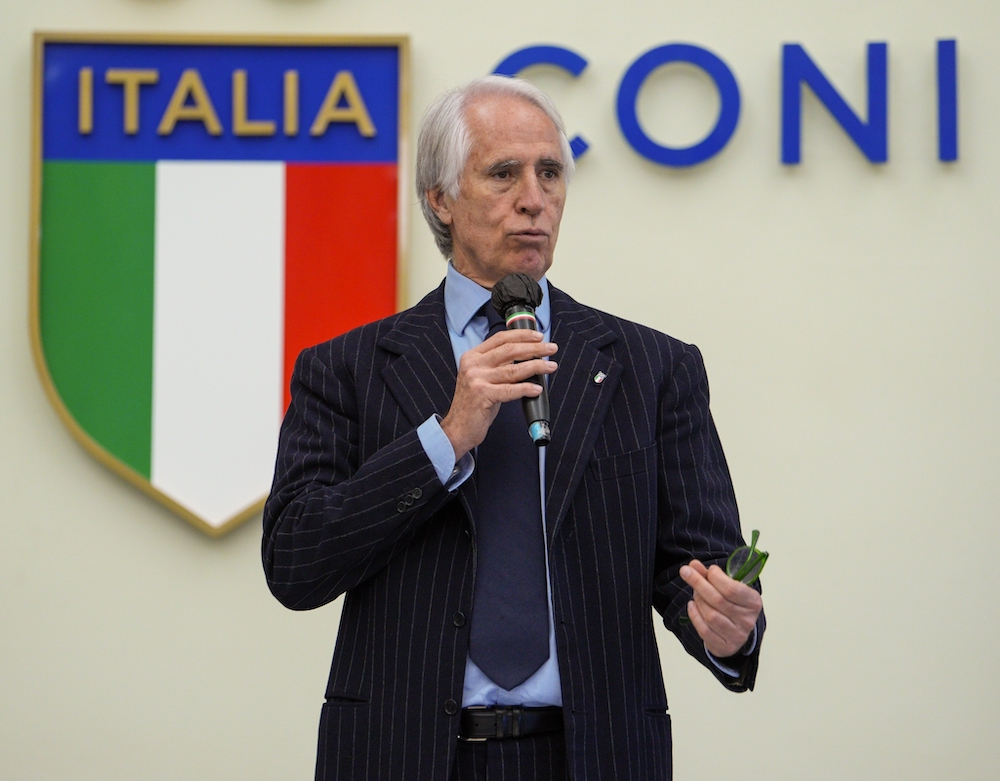 "This is not a snapshot of the last ten years, but a trend for the federations, because it is useless coming up with models if you do not know the numbers" explained Carlo Mornati. "We do not wish to be self-congratulatory, but this is cold, hard data that perfectly sums up the work done by the federations. In recent years there has often been talk of better systems, especially at a European level, but the numbers show how difficult it is to find a model that works better than ours" added the CONI Secretary General.
The data from the report was illustrated by Mornati. In spite of some critical issues, Italian Olympic sport continues to be at the forefront of the international rankings in terms of quality and quantity of results. At the Tokyo Olympics, the level of international participation increased (+23% compared to Barcelona 1992) as did the level of competitiveness (the total number of gold medal-winning nations increased by 76% and the number of medal-winning nations by 45%).
Added to this picture is the demographic decline (Italy has lost some four million people in the 20-34 age bracket from 1996 to 2022) and cutbacks in public funding to Olympic sport, reduced from €3.1 billion in the 1993-1996 Olympic cycle to €1.8 billion in the 2017-2020 cycle.
In spite of this, the negative trend in results that began in the early 2000s has seen a reversal in the last decade, where there has been a steady growth in competitiveness culminating in the exceptional results of the 2021-2022 cycle. The level increased significantly both in overall terms (number of medals and podium places) and as a percentage of the total number of scheduled events.
Specifically, Italy concluded the Tokyo Olympics with 40 medals in 19 disciplines, the highest number of podiums ever achieved at a Summer Games. Excellent results were also achieved at Beijing 2022 with 17 medals, the second highest number of medals ever at the Winter Games. The increase in the overall number of podiums compared to the Beijing 2008-Vancouver 2010 was as high as 78%.
Also worth noting was the increase in female participation, the excellent results achieved in mixed events and the multidisciplinary inclination of our country, with medals won in no fewer than 28 different sports: only the United States, Russia and Japan did better in this particular ranking.
In a context that sees an increasingly strategic approach to resource allocation from a growing number of Olympic committees, which concentrate investments and efforts on those disciplines where the likelihood of medal success is highest, the Italian Olympic Movement is thus showing itself to be multifaceted, winning medals in a wide ranging number of summer and winter Olympic sports and disciplines.
The performances and trends at Olympic level have been confirmed at World and European Championships levels as well as at overall and youth levels. 2022, in particular, was a record-breaking year: no fewer than 219 medals were won in Olympic disciplines at the European Championships, a figure that puts Italy clearly in first place with Great Britain in second place with 139 podiums. Italy is also leads the way at a European level when considering only the competitions in the Olympic programmes for Paris 2024 and Milano Cortina 2026, with 119 podiums, ahead of Great Britain with 90.
As far as the results obtained in the Olympic disciplines at the 2022 World Championships are concerned, Italy ranks third behind the United States (225) and China (141), with 102 medals. Third place is also confirmed when factoring in World Championships for young people, both junior and youth, this time behind the United States (90) and Germany (85).
Looking to the future, the estimated total number of medals for Paris 2024 and Milano Cortina 2026 will be 61 (42 for the French Games, 19 for the Italian Olympics), a figure that would place Italy in sixth place overall, with a 78% increase compared to the Vancouver 2010-London 2012 double edition. Finally, in the virtual medals table of Paris 2024, Italy is currently in fifth place with 42 medals (16 gold, 14 silver and 12 bronze), with a further possible increase compared to the record-breaking Tokyo edition.
(photo Luca Pagliaricci)