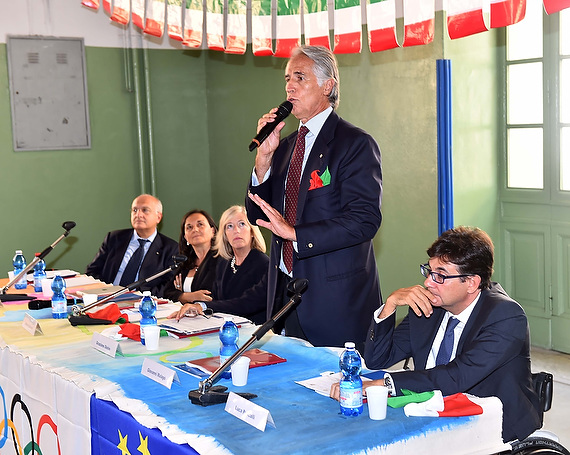 "Sport di classe" is the new declination of physical education inside schools. The turning point has been presented this morning at the "Daniele Manin" Comprehensive School in Rome by CONI President Giovanni Malagò and Education, university and research Minister Stefania Giannini, with the Under-secretary of Prime Minister office with sport mandate Graziano Delrio and CIP President Luca Pancalli attending.
The project envisages the switch from an experimental perspective dedicated to only a few classes to the involvement of all primary schools for the entire 2014/2015 school year: two hours of physical education per week for the 3rd, 4th and 5th grade, starting from November, thanks to the integration of MIUR and CONI competences under a shared management. Since 2015 this offer will be further improved, with a chance to extend it to the 1st and 2nd grade, also thanks to European funds.
The other big novelty is characterized by the introduction of the sport tutor inside schools, an element that will have a role of support for all the school institutions, and playing an educational role for the teacher leading the class who will manage the two hours of physical education. A special attention will be devoted to the disabled students, thanks to the CIP contribution, which will also be present with its representatives in all the organizations managing the activities. The continuity factor with the plan "The good school" ("La buona scuola") is represented by the training by MIUR, CONI and CIP of all teachers involved.
With "Class sport", the philosophy of sport games also changes: they will be held also for primary schools but with an innovative spirit. The introduction of Winter Games between January and February is expected, as well as of the Year End Games, that will be held during school time and will have as a priority goal to promote the education and social value of sport activity.
CONI President Malagò has underlined the relevance of the project. "This is the most important battle, I already claimed that during my electoral campaign to those who told me that CONI had to stay away from this issue. I have insisted a lot on this and today I must thank Minister Giannini and the Government, represented by Undersecretary Delrio, to have allowed us to make this turning point real. This new governance is making us responsible, and there is a synergy with the State, which has understood that we could not go on like that, and this is building a bridge with the planning guidelines for next year on the route traced by Renzi and Giannini. This is an historical turning point, we are making our resources available. Last point, we stand for the involvement of private parties in order to come full circle."
MIUR Minister Stefania Giannini has expressed the satisfaction of the Government. "I believe that sport, like study, is one of the most fascinating and enthusiastic things one can do in life. Sport is for everybody, but we also need physical education teachers who can teach sports from the beginning. What we wanted to do concretely is gathering all the organizations that deal with sport, the Minister I am honoured to lead and CONI, as a fundamental coordination element. Good school starts from the direct link with CONI and CIP, as well as from the action of the Prime Minister office which has made school the symbol of this Government."
The Undersecretary of Prime Minister office Graziano Delrio has thanked CONI and MUIR: "Educations means giving one selves best and sport has such a function. For us sport is part of the big school education project because you play to get better and win, you have to work with your colleagues, you must accept defeat, sport is a school for life and an extraordinary tool for communitarian culture."