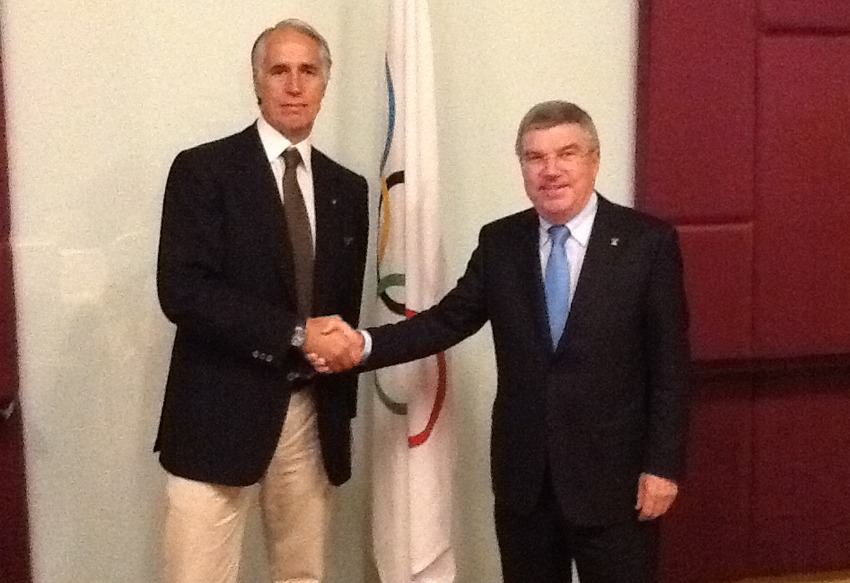 The President of CONI, Giovanni Malagò, met the IOC President Thomas Bach this morning in Bangkok. The event was also attended by the Secretary General of CONI, Roberto Fabbricini, and the General Director of IOC, Cristophe De Kepper.
The meeting lasted 45 minutes and was primarily focused on international politics matters, in view of the IOC Extraordinary Session that will be held in Monaco on December 8 and 9. After greeting him on behalf of the Italian Prime Minister, Matteo Renzi, the President of CONI informed Bach about the contents of the last meeting with the Prime Minister, held on Tuesday morning.
In view of a possible bid for the Olympic Games of 2024, the Italian National Olympic Committee looks forward to the results of the works in Monte Carlo and the discussion on the "Agenda 2020", which may include new scenarios and new opportunities for future Olympics bids. Finally, the President Malagò invited President Bach to the Sportsmen's Mass that will be held on December 19 in St. Peter's Basilica in Rome; after the Mass, Pope Francesco will meet with the Italian sports representatives.