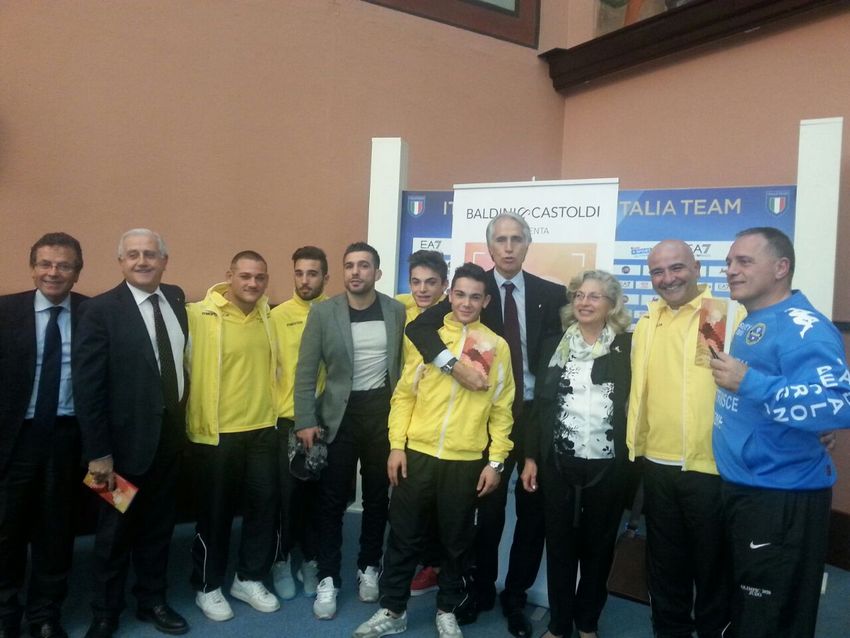 A ray of sun that makes its way through the clouds of negativity and prejudice, to contrast degradation and violence with the example promoted by a meeting place dedicated to sport. The scenario outlined in the passionate pages of "L'Oro di Scampia", the autobiographical book written by Giovanni Maddaloni in collaboration with Marco Caiazzo, tells the incredible stories of lives and activities that revolve around the judo gym managed by the "Master", that offers free classes to all the underprivileged children of the district of Vele.
The President of CONI, Giovanni Malagò, and the Secretary General, Roberto Fabbricini, wanted to attend the event, held at the Hall of Honor in the presence - among others – of the President of FIJLKAM, Domenico Falcone, and Mrs. Marina, widow of the historic President of the Federation, Matteo Pellicone.The brief discussion was moderated by the Director of Rai Sport, Carlo Paris, with the participation of the author's son, Giuseppe Maddaloni, Olympian in Sydney (2000), of Vincenzo D'Onofrio, Public Prosecutor of the Anti-Mafia District Directorate of Naples, and Monsignor Andrea Celli, Director of the Legal Office of the Vicariate of Rome.
Malagò, who visited that same gym in Scampia during one of the first public appearances as President of CONI, wanted to address his sincere encouragement to Maddaloni. "Maddaloni is a quite unique example of a person who, as a bastion against the degradation and lawlessness, received the gift of having a child who won an Olympic gold medal. Giovanni is a giant, he knows how much I care about him and I am glad that through this book he was able to tell a wide audience all those stories that have characterized his work in recent years. We will meet Matteo Renzi together a few minutes before the Golden Collars: the Prime Minister specifically asked for this, because he understood that we are talking about a man who deserves special attention."
He, the master, thanks affectionately. "In this book are my dreams, my sufferings, my social and sporting victories. I would like to thank President Malagò, a good person who has always helped me. I told him about my project of the Citadel of Sports in Scampia. It is my dream, and thanks to God, it will soon be created. We are experiencing a moment in which good people are taking over. I understood it after the election of Pope Francis." His son, Pino, argues with sincerity: "My father was always told he was a fool. Local politicians and friends never took him seriously, but now we are here, at CONI. I hope his citadel of sport becomes a reality as it will help many kids to take the right path." The event was also attended by the former mayor of Naples and President of the Campania Region, Antonio Bassolino.