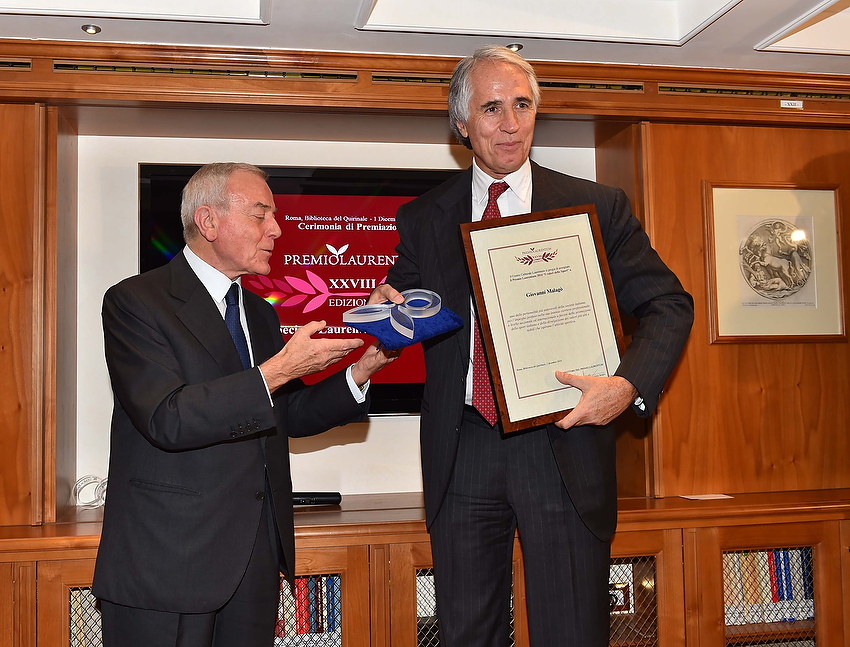 The President of CONI Giovanni Malagò has been awarded today in the library of the Quirinale with the Special prize "Values of Sport", established this year by Laurentum Poetry Awards. While having a predominantly cultural vocation, the recognition aims to celebrate the values that contribute to a healthy physical and athletic training and that require the teaching and the assimilation of the spirit of sacrifice, loyalty, fairness, and respect of the opponent, so desperately needed in a modern society where athletes are role models for the new generation.
As stated in the citation, Laurentum Cultural Center "is pleased to award this Prize to Giovanni Malagò, one of the most influential personalities of Italian society, for the effort in his intense career at national and international level aimed to the promotion of Italian sport and the spreading of the highest, noble values that inspire sport".
The Laurentum Awards are one of the main Italian literary competitions, the first ever in terms of membership, with more than 70,000 participants in the various initiatives in the last five editions. The Committee of Laurentum Awards is composed, as well as by President Gianni Letta, by Angelo Bucarelli, Corrado Calabro, Maurizio Cucchi, Stas' Gawronski, Simona Izzo, Raffaele La Capria, Mauro Miccio, Maria Rita Parsi, Davide Rondoni and Roberto Sergio.
2014 WINNERS
6th CAREER AWARD
Adriana Asti
8th VALUES OF CULTURE AWARD
Lina Wertmüller
4th DANTE ALIGHIERI AWARD
Giampiero Neri
1st VALUES OF SPORT AWARD
Giovanni Malagò